Shopping Cart
Your Cart is Empty
There was an error with PayPal
Click here to try again
Thank you for your business!
You should be receiving an order confirmation from Paypal shortly.
Exit Shopping Cart
California School Fiscal Services
Providing comprehensive business office and consulting services to K-12 traditional schools and charters
| | |
| --- | --- |
| Posted on August 19, 2014 at 6:00 AM | |
In regards to an earlier post "Schools Weigh Expanding Free Meals to All Students," there are a few provisions in the nutrition services area that allow for meals to be served at no charge to all students – Provisions 1, 2, and 3 as well as the Community Eligibility Provision (CEP). Just as I had come onboard in FY 13-14, SAUSD opted to go district-wide to Provision 2. Before that time, only some of the schools within the district were operating under the Provision 2 umbrella. However, we have now decided to run the numbers under CEP and analyze the data to determine if it would be financially more beneficial to implement the CEP at selected school sites rather than Provision 2. If we do go this route, we would be a hybrid operations as some sites would be under Provision 2 and others under the CEP. We have a small window of time to complete our analysis as the deadline to opt in the CEP is August 31st. With that said, I thought that it might be helpful to highlight some of the key elements of each provision in the table below.
Traditionally, under the National School Lunch Program (NSLP) and School Breakfast Program (SBP), schools/districts annually distribute free and reduced price meals applications to households of all enrolled children and make determinations of eligibility for free and reduced price meals. They also have to count the number of meals served by type (free, reduced price, and paid meals) at the point of service on a daily basis to claim Federal and State reimbursement.
In an effort to reduce paperwork at the local level, Congress incorporated into Section 11(a)(1) of the National School Lunch Act three alternative provisions to the normal requirements for annual determinations of eligibility for free and reduced price school meals and daily meal counts by type (free, reduced price, and paid meals) at the point of service. In addition, Section 104(a) of the Healthy, Hunger Free Kids Act of 2010 made the Community Eligibility Provision (CEP) available to LEAs and schools in high poverty areas.
Schools/Districts must apply in order to participate in any of the provisions and receive approval from the CDE before implementation of the program.
Indeed, if the district priority is to make meals available to all students at no cost, then all aspects of the financial impact has to be analyzed and communicated. There are several calculations that have to be performed in order to determine the fiscal impact of any one of the mentioned provisions. The cost/benefits of each have to be analyzed and a methodical long term plan has to be developed to ensure that the elected provision will be fiscally sustainable for the duration of the program, up to 4 years or longer in many of the cases.
Some of the implementation challenges specifically related to the Community Eligibility Provision (CEP):
1. The limited time during the initial implementation to understand the CEP, make decisions about participation, and implement it
2. Understanding and addressing the implications of the CEP for educational programs that use individual student FRP (Free/Reduced/Paid) meals certification data. Federal and State educational programs routinely use FRP/household income data for multiple education-related purposes, so lack of such data under the CEP represents a widespread challenge
3. At the LEA level, the barriers included financial concerns and uncertainty about impacts of the CEP on the National School Lunch Program (NSLP) and School Breakfast Program (SBP) participation
4. Equity issues and operational challenges, especially for LEA's with both eligible and non-eligible schools
5. LEA's may experience new challenges in the meal claiming, at least during the initial implementation, due to possible increased administrative costs and errors (i.e. use of incorrect claiming percentages). On the other hand, the CEP could produce net savings in meal counting and claiming costs in the long run, if schools could reduce the complexity and cost of automated systems for meal counting and payments.
(Due to the challenges posed by number 2 above and for internal control purposes over the reimbursement claiming process, at this time SAUSD under its Provision 2 program will continue to track meal counts at the point-of-sale rather than just taking the meal total count and applying the base year percentages. In addition, all new students enrolling in the district will be given a meal application only for other programmatic purposes, NOT for determining meal eligibility, and such costs will be reimbursed by the General Fund)
Some potential cost savings based on preliminary studies:
1. CEP participation appeared to reduce time spent by school and LEA staff on distributing and processing applications for free or reduced-price meals
2. Time and effort in processing and verifying income of free/reduced students
3. Meal payment collections and accounting
4. Potential reduction of errors in the processing of FRP meals applications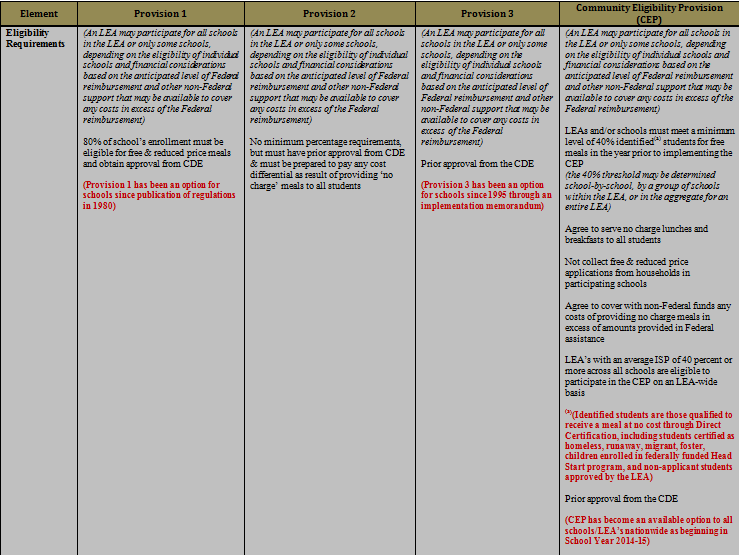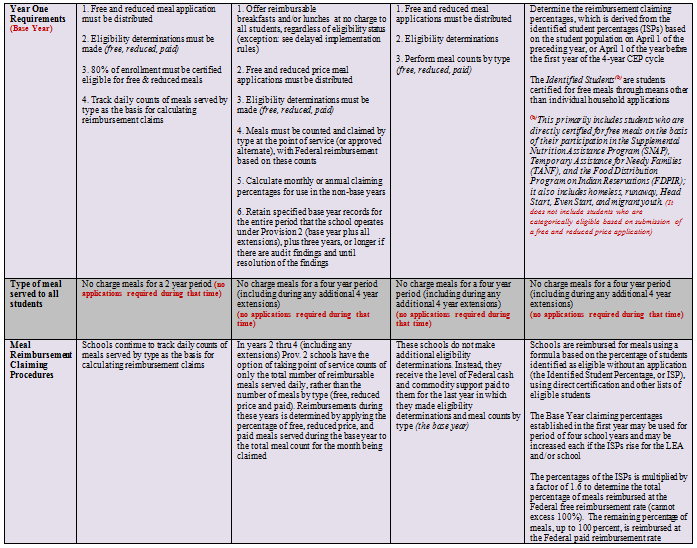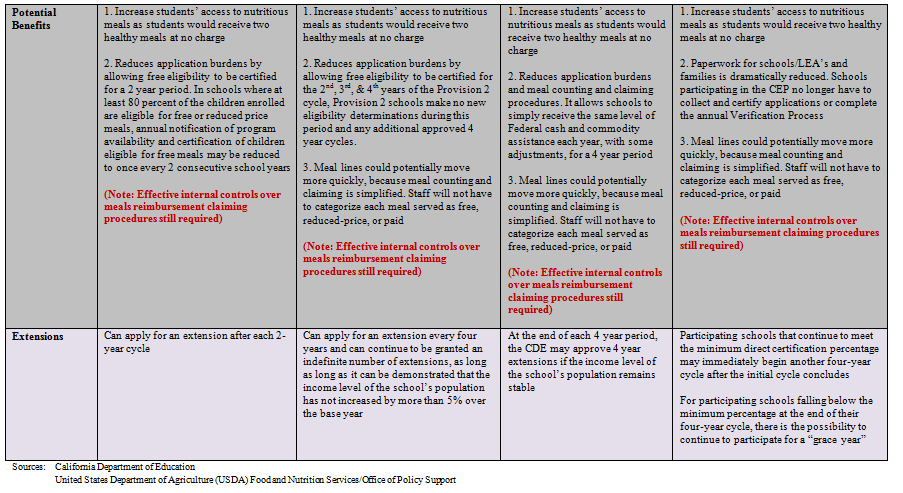 Categories: Nutrition Services
/