Shopping Cart
Your Cart is Empty
There was an error with PayPal
Click here to try again
Thank you for your business!
You should be receiving an order confirmation from Paypal shortly.
Exit Shopping Cart
California School Fiscal Services
Providing comprehensive business office and consulting services to K-12 traditional schools and charters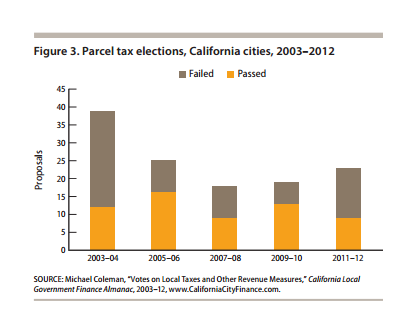 Because the parcel tax is a tax on land, it has many advantages over other taxes.
Designed properly, it causes virtually no deadweight loss—that is, it does not diminish economic
activity the way the sales and income taxes do. The essence of a properly designed parcel tax is not
a at tax but rather a tax per square foot of land, applied uniformly to all land uses.
-----------------------------------------------------------------------
If your district is tossing around the idea of going out for a Parcel Tax, you really need to read this recent study "Parcel Taxes as a Local Revenue Source in California".
I encourage you to read this article even if you aren't current considering it for your district. It's provides an excellent overview of property tax in general, the impact of Prop. 39 on education, utilizing several comparative graphs and charts.
/