Shopping Cart
Your Cart is Empty
There was an error with PayPal
Click here to try again
Thank you for your business!
You should be receiving an order confirmation from Paypal shortly.
Exit Shopping Cart
California School Fiscal Services
Providing comprehensive business office and consulting services to K-12 traditional schools and charters
First Interim certification data has been released.  I always read the list of districts certified as negative or qualified and find myself holding my breath.  Anyone else do that too?  Good news overall - 
Check out the actual report on the FCMAT website:
www.fcmat.org/wp-content/uploads/sites/4/2016/03/Certification-of-Budgets-chart-3-21-2016.pdf

-----------------------------------
MARCH 23, 2016
Cabinet Report
by Kimberly Beltran
(Calif.) The number of California school districts reporting budget problems has dropped to the lowest overall level in a decade, based on a biannual, mandated survey of financial data collected by the state.
Just 20 school districts – the fewest since the onset of the great recession – received either a negative or qualified certification in the first reporting period for 2015-16, according to figures released by the California Department of Education earlier this month.
During the height of the economic crisis for schools in 2012, the number of districts unable or in danger of being unable to meet current or up-coming fiscal obligations rose to an all-time high of 188.
By law, each of the state's roughly 1,000 school districts and county offices of education must submit two "interim" financial reports every year verifying whether or not they can pay their debts for the current and two subsequent budget years. The county superintendent's office reviews the information and certifies the local educational agency's budget as positive, qualified or negative.
A positive certification is assigned when the LEA will meet its financial obligations for the current and two subsequent fiscal years. A qualified certification means the agency may not meet its financial obligations for the current or two subsequent fiscal years.
Districts receiving a negative certification – the most dire of the classifications – will likely be unable to meet their financial obligations for the remainder of the current year or the next two. This certification also means the district's county office of education may intervene in its finances and possibly take over administration duties.
The number of negative and qualified certifications decreased in the 2015-16 first interim reporting period to 20 LEAs – down from 43 a year ago. Four LEAs are certified as negative, down from five last year while 16 LEAs received qualified certifications, down from 38 in 2014-15.
Two of the four districts on the negative certification list are Castaic Union Elementary School District and Inglewood Unified, both in Los Angeles County. The others are Julian Union High School District in San Diego County and Shandon Join Unified School District in San Luis Obispo.
Some of the state's largest districts are on the qualified certification list this year, including Oakland Unified, San Diego Unified and Los Angeles Unified.
The current list, however, stands in stark contrast to 2011-12 when a record number 188 LEAs were either in negative or qualified financial status. At that time, the state was digging itself out of a budgetary hole brought on by a severe economic recession that had forced drastic cuts, including to education.
The number of LEAs in negative or qualified status began declining the following year after the passage in November 2012 of Proposition 30, a $6 billion-a-year tax measure aimed at shoring up both the state's and schools' depleted budgets.
The first interim report is based on budget data submitted in December 2015 that covers the period ending Oct. 31.
Certifications for the second interim report were due March 17 for the period ending January 31. The results of that reporting period will likely be released in May.
Take a few minutes to get caught up on the state budget adoption process.  We are getting there....
---------------------------
Copyright 2015 California Association of School Business Officials
2015-16
K-12 budget adopted by Conference Committee
Proposal does not shift child care into Proposition 98
By Jeff Vaca and Enrique Ruacho, Governmental Relations
On Tuesday evening, the Budget Conference Committee completed its work while competing with a no-hitter by the San Francisco Giants and Game 3 of the NBA Finals for the attention of the State Capitol. Following a hearing that lasted close to six hours, the committee closed out the Proposition 98 budget (as well as the other sections of the state budget), and the legislative leadership will now begin the task of negotiating a final budget with the Brown Administration before the constitutional deadline of June 15.
That task will be made arduous by the fact that in adopting its budget, the Conference Committee relied on the higher level of state revenues estimated by the Legislative Analyst's Office, an action which the Administration has consistently opposed in recent years. This could place many of the new K-12 items not included in the May Revise (as well as augmentations) at risk.
The key headline coming out of Tuesday night's budget action was that child care was not shifted into the Proposition 98 guarantee. The budget plan adopted by the Senate included such an action, which was opposed by many in the education community, including CASBO, the Education Management Group, and several organizations within the Education Coalition. However, the committee did adopt a proposal that funds child care/early education at a level that is $392 million higher than that proposed by the governor. The proposal includes 27,000 additional preschool slots (5,000 full-day slots, 10,000 part-day slots, and 12,000 Alternative Payment slots) and increases the Standard Reimbursement Rate by 7.5%. Speaking on behalf of the Administration, Chief Deputy Director of Finance Keely Bosler testified that the Administration has "major concerns" with the proposal, which she said would result in ongoing costs to the state of $563 million beginning in the 2016-17 fiscal year.
The K-12 education plan approved by the committee also includes the following key components:
Local Control Funding Formula implementation. The conference committee budget allocates $6.586 billion to the LCFF. The May Revise proposed $6.2 billion for LCFF.
Mandates backlog. The conference committee budget provides $3.3 billion for payoff of the K-12 Mandates backlog, and includes budget trailer bill language that ensures local educational agencies do not have to remit funding back to the state to pay for disallowed costs identified by an audit of claimed reimbursable state-mandated program costs. The May Revise proposed $3.6 billion for this purpose.
Educator support proposals. The conference committee budget provides $500 million for educator effectiveness. $10 million is provided to the K-12 High Speed Network to provide professional development and training related to network management and infrastructure, and the remaining amount is to be used for the following:
Beginning teacher and administrator support and mentoring.
Professional development, coaching, and support services for teachers who have been identified as needing improvement or additional support.
Professional development for teachers and administrators that is aligned to the state academic content standards.
Promote educator quality and effectiveness, including but not limited to training on mentoring and coaching certificated staff and training certificated staff to support effective teaching and learning.
As a condition of receiving the funds, LEAs would be required to develop and adopt a plan for the expenditure of the funds. This proposal originated in the Senate budget plan, and has raised controversy because of its potential link to legislation that would (among other provisions) require that the standards and criteria for performance in teacher evaluations be collectively bargained.
Adult Education. The conference committee adopted the governor's $500 million proposal (ongoing funds) for the Adult Education Block Grant, with the following amendments:
Cap the amount of funding provided to school districts for adult education on the basis of the 2014-15 maintenance-of-effort certification at $375 million.
Specify that joint powers agencies may participate as adult education consortia members.
Reduce the role of the Executive Director of the State Board of Education in the program.
Allow older adult programs to be funded under the consortia. For the Administration, Ms. Bosler expressed concerns about this expansion.
The committee's plan also provides $25 million in one-time Proposition 98 funds to K-12 and Community Colleges to develop and collect outcomes data relating to the effectiveness of each adult education consortium in meeting the educational and workforce training needs of adults.
Career Technical Education. The committee adopted the governor's proposed Career Technical Incentive Grant program, and trailer bill language with the following amendments to ensure greater access to grant funding for small and rural school districts:
Provide competitive grants in three size related spans, based on ADA (small, medium and large).
Require higher weighting of applicants who do not have a CTE program, serve low income, English learner, and foster youth students, have a high dropout rate, or are located in areas with high unemployment rates.
Technology Infrastructure/High Speed Network. The conference committee compromise proposal provides $50 million in Broadband Infrastructure Improvement Grants, with a requirement that projects costing over $1,000 per test-taking student be contingent upon approval by the Department of Finance with a notification to the Joint Legislative Budget Committee.
Home to School Transportation. The conference compromise provides $25 million to begin equalizing funding for home-to-school transportation services, plus a cost of living adjustment. The Senate budget had included $50 million for this purpose, but the matter was addressed in neither the May Revise or the Assembly's budget. Ms. Bosler expressed concern from the Administration regarding this item, which she said erode local control by funding an old categorical program.
The conference committee also took actions to adopt trailer bill language that would:
Require local educational agencies to report to the Superintendent of Public Instruction for compilation on the Department of Education website, the following: 1) Funds calculated on the basis of the number and concentration of unduplicated pupils and 2) an estimate of the amount of LCFF funds expended on unduplicated pupil services in the prior year that is in additional to what is expended in the budget year.
CASBO opposed this proposed language in its position letter to the Budget Conference Committee, stating "the need for this language is unclear, and it is also unclear whether it would result in any meaningful level of increased transparency. Prior to adoption, this proposal should be examined by the appropriate policy committees, with opportunity for public comment and feedback."
Adopt trailer bill language to add homeless youth as a pupil subgroup for purposes of accountability.
CASBO has also expressed opposition to this proposal to the Administration.
As noted above, the Legislature now has until June 15 to send a budget to the governor for his consideration. If it does not, legislators will not be paid until such time that the budget has been sent. We will continue to report on any budget developments as they occur.
For a complete copy of the conference committee actions, please refer to http://sbud.senate.ca.gov/conferenceagendas and the following items: Prop 98 Package Language June 9, 2015 and K-12 Language June 9, 2015.
It doesn't sound like the a repeal of the reserve cap is likely.  However, I'm sure we are all grateful for the clarification provided by chair of the Assembly Education Committee, Patrick O'Donnell, D-Long Beach: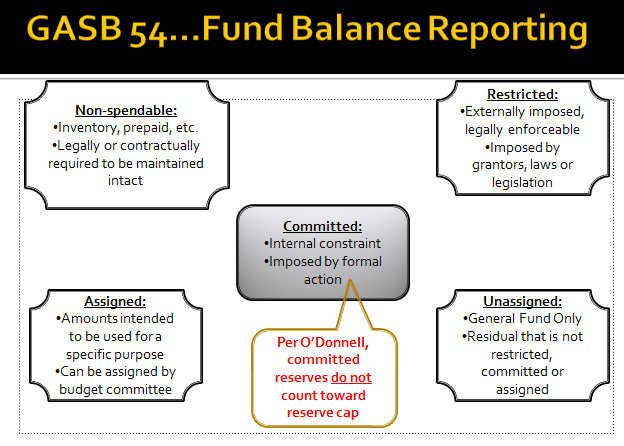 -----------------------------------------------------
Advocates for school districts are still hoping they can persuade legislative leaders and the governor to repeal the limit on how much money districts can annually keep in reserve. So far, though, they've struck out.
Last week, on a party-line vote, the majority Democrats on the Assembly Education Committee rejected Assembly Bill 1048, sponsored by Assemblywoman Catharine Baker, R-Dublin. The bill would have rescinded the reserve cap, which has yet to go into effect. Democrats and Republicans disagreed on how much of a problem, if any, the ceiling on reserves will create. A Senate version of the bill, sponsored by Sen. Jean Fuller, R-Bakersfield, failed to move out of that body's Education Committee.
School management groups were incensed over a last-minute deal last year in which Democratic leaders and Gov. Jerry Brown attached the cap on district reserves to the bill containing legal language associated with the state budget, called the trailer bill, without a hearing. The school management groups say they didn't learn about the cap until shortly before the vote on the budget.
The California School Boards Association blamed the California Teachers Association for persuading Democratic leaders to include the cap as a way to free up money tied up in reserves so that it would be subject to contract negotiations. The CTA, while not publicly taking credit for orchestrating the deal, is the primary opponent to rescinding the cap. The school boards association said the ceiling on reserves violated local control over local budgets – the principle behind the Local Control Funding Formula – and has made rescission its top priority this year.
Baker, in a hearing on her bill last week, called the cap "a destabilizing policy we have imposed on every district in the state."
Under current law, districts must maintain minimum end-of-year balances in their general funds, ranging from 1 percent for Los Angeles Unified to 5 percent for the smallest districts. The cap on reserves would range from 3 percent for L.A. Unified to 10 percent for small districts of under 1,000 students.
CTA lobbyist Estelle Lemieux said it was "unconscionable" for districts to hoard money in reserves that taxpayers expect to be spent on education programs.
The Legislative Analyst's Office, which also has called for the cap's rescission in a January 2015 report, found that fewer than 10 percent of the nearly 1,000 districts in the state would have met the new cap requirement had it been in effect in 2013-14. Faced with big cuts in state funding following the 2008 recession, as well as uncertainty about whether there would be further cuts if voters failed to pass temporary taxes under Proposition 30 in 2012, most districts built up double-digit reserves. In 2013-14, according to the LAO, reserves averaged 66 percent of general fund expenditures for small districts, 21 percent for mid-sized districts and 15 percent for large districts.
State revenues have surged the past two years, but school boards and superintendents argue they remain subject to volatile state taxes and a possible decline in state revenue when Prop. 30 is phased out over the next three years. Districts, they argue, should determine their own reserve levels, based on individual circumstances that they, not Sacramento politicians, know best.
But CTA lobbyist Estelle Lemieux said it was "unconscionable" for districts to hoard money in reserves that taxpayers expect to be spent on education programs. Districts laid off librarians, counselors and nurses at the same time they were building huge surpluses, she said.
The cap on reserves would go into effect the year after the state makes payment of any size into a new rainy day fund for K-12 and community colleges that's part of Proposition 2, which voters passed last year. The rationale behind the cap is that districts wouldn't need large reserves if the state also has a rainy day fund to cushion revenue declines.
Contributions into the state education rainy day fund would be rare, however. Revenue from the capital gains tax would have to be above average, and all debts owed to schools under Proposition 98, called the maintenance factor, would have to be paid off. The LAO, in the latest analysis of the May budget revision, predicts no contributions to the rainy day fund – and no triggering of the reserve cap – for at least the next three years. In its analysis of the May budget revision, School Services of California, a Sacramento-based education consulting firm, concluded that there is an outside chance that the reserve cap could be enacted next year.
But Josh Daniels, an attorney and a member of the Berkeley Unified school board, testified at the AB 1048 hearing that the mere existence of the reserve cap law is already creating harm. The bond rating agency Standard & Poor's cited the cap as one reason to deny his district a better credit rating, which could have saved Berkeley taxpayers potentially millions of dollars in lower interest payments, Daniels said. Not knowing when the cap may be triggered is prompting some districts to lower reserves despite their better judgment, the school boards association has argued.
Democrats counter that worries about the reserve cap are overblown, based on what the chair of the Assembly Education Committee, Patrick O'Donnell, D-Long Beach, called "confusion and misinformation." O'Donnell, a teacher and former CTA leader, said that a district could appeal to its local county office of education to grant a one-year waiver from the reserve restriction. And a school board could designate savings for specific purposes, such as new computers, school buses or a roof replacement, that wouldn't count toward the reserve cap. To emphasize the point, O'Donnell has sponsored AB 531, confirming that committed reserves are an option that districts can use.
But Daniels called committed reserves "a red herring" that appears to give districts flexibility the Legislature took away with the reserve cap. Rescinding the cap is the only way to make things right, he and others say.
Dennis Meyers, a lobbyist for the school boards association, said he and other school groups will continue to make their case to the Brown administration for a solution, although CTA is not likely to give up the cap without getting something in return. It's not clear what the price will be to make it vanish.
May 19, 2015 | By John Fensterwal

We all knew this was coming but it's here..... and it has a huge impact on our budgets.  This might be one of those variables that you want to underscore  in your preliminary budget narrative.  
-------------------------------------
BY DALE [email protected]
04/14/2015 2:37 PM 04/14/2015 5:54 PM
CalPERS is about to raise pension contribution rates again, this time by more than 9 percent, a move that will cost state government and local school districts nearly $600 million.
The increases are the latest step by CalPERS to gradually shore up its finances. In early 2014, CalPERS said it would embark on a series of significant rate hikes, and on Tuesday the pension fund's finance and administration committee recommended higher rates for the upcoming fiscal year.
While CalPERS is continuing to deal with the lingering effects of the 2008 crash in the financial markets, it pinned the latest rate hike primarily on growth in government payrolls and recent demographic assumptions that show retirees living longer.
"As the fund matures, and the retired population grows, it's important that the rates reflect the changing demographics of our members," said committee chairman Richard Costigan in a prepared statement. The rate increases are also prompted in part by a 2-year-old policy under which CalPERS recognizes the financial impact of investment losses more quickly than before.
Nonetheless, the California Public Employees' Retirement System said the increases are smaller than originally anticipated. Spokeswoman Amy Morgan said the rate hike was moderated by the pension fund's strong investment returns of 18.4 percent in the fiscal year that ended last June.
If approved by the full CalPERS board Wednesday, the state's annual contribution would increase by $487 million, to $4.75 billion, an increase of about 11 percent. The contribution from school districts would increase approximately 9 percent, or $111 million, to a total of $1.34 billion a year. California teachers have their own pension fund, but school employees other than teachers get their retirement plans from CalPERS.
The CalPERS board will vote in the fall on higher rates for participating cities, counties and other local government agencies. Those rates will take effect with the fiscal year starting July 2016.
Read more here: http://www.sacbee.com/news/politics-government/capitol-alert/article18526322.html#storylink=cpy
Am I the only one that is still scared from that 6 year + stint with year over year of budget cuts?  
Now, we are in our second year of LCFF and it might be easy to forget that California education is still underfunded.  With LCFF came our first year of "more" funding than the prior year.  We all rejoiced.  Yet, it is really important that we communicate with our stakeholders that we are still no where close to where we should be....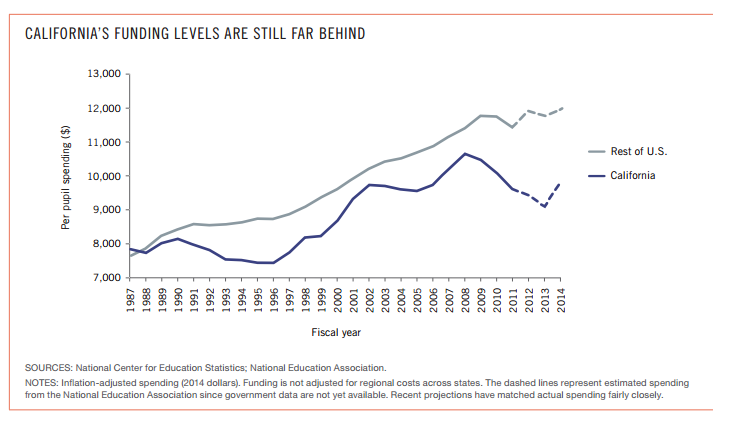 A picture is still worth a thousand words, isn't it? (This might look great in your second interim narrative!)
The Public Policy Institute of California did a really nice overview of Calfornia education and our current issues.  It's short, easy to read, and worth your time.  
Be sure to read it with your morning coffee! 
I find this article to be a refreshing reminder of where we still remain with school funding in California.  We are all so relieved that it isn't 2008-09 that it's easy to forget that education remain wholly underfunded. 
Still, this article begs the question:  Would more money automatically translate to better student performance?  And if the answer is no, then does that mean we shouldn't strive for increased funding in education?
 Ah, food for thought for you all today...
---------------------------------
The biggest comeback story in Sacramento belongs to California schools, which will see more than $6 billion in new funds next year under Gov. Jerry Brown's budget proposal.
But even with that infusion of money, California would still rank among the lowest in the nation when it comes to per-pupil spending.
San Diego schools chief Cindy Marten is leading an effort to change that. In a move that's might be viewed as either gutsy or naive, she's not waiting for the ink to dry on the governor's education spending plan before asking for more — even if her timing makes some natural allies uncomfortable.
The San Diego Unified School District is working to build a coalition of school districts from throughout California to push for education funding "adequacy hearings" to be held in Sacramento as early as next month. The idea is to build a no-frills template showing what educators believe schools need — from class size and counselor ratios to custodians and clerical support — to be contrasted with what they can actually afford under current funding levels.
"We do appreciate that the governor is investing in education, but we do need more money," Marten said. "We need to clearly define what adequacy looks like when it comes to funding by looking at proven strategies — school by school and district by district to paint a picture for the state. We're number 46th in the nation by one report. We're not asking to be the number one funded state, maybe 12th or 13? We'll figure that out."
But even getting the conversation started appears to be a tall order — especially when other state agencies are still smarting from a budget plan they say favors education at the expense of other critical needs.
Marten and her team have met with Sen. Marty Block and Assemblywoman Shirley Weber — both San Diego Democrats who got their political start as local school board members — to solicit support and a commitment to schedule and host a hearing in Sacramento.
Block and Weber are gingerly moving forward with the request, even as they wrestle with the timing and some of the substance.
"I appreciate and support San Diego Unified, and I think they are kind of leading the charge," said. Block. "I don't have any great hope that the governor will make more funds available for education right now. This gave me enough pause to not want to call this a hearing. We need to be sensitive. We want to have a conversation. We want to look to the future so we can establish some aspirational goals."
San Diego Unified is still working to define what it believes an adequate education would look like, using research, data and evidence. It's draft includes the arts, English leaner support and math specialists.
San Diego Unified has seen increases in test scores and its graduation rate in recent years during the state's fiscal crisis amid steep cuts and a shortening of the school year through furlough days. In 2013, the district topped 71 other large urban districts nationwide to selected one of four finalists for the prestigious Broad Prize in Urban Education, a prize that ultimately went to Houston schools.
As with other districts nationwide, San Diego's most vulnerable students — those struggling to overcome poverty, language barriers and disabilities — are far below their more affluent peers when it comes to academic achievement.
Weber recalls the district's struggles with those same issues nearly 30 years ago when she was elected to the San Diego school board.
"I certainly support education and more funding for education. But I want to know what we are trying to accomplish," Weber said. "Money is not always the key. Even if you tell me exactly how you are going to spend it, you have to tell me why."
Weber said she told Marten she would support holding a public session of some sort to discuss the future of education funding, but only if it focuses on more than staff ratios and money.
"It has to be outcome-oriented. It's like the African proverb, 'If you don't know where you're going, any road will take you there,'" she said.
The debate over whether or not more money will improve California's public education system is not new. Critics point to well-funded school systems that produce poor results — such as Detroit and Washington, D.C.
 "It's hard, frankly, to say whether something is over-funded or underfunded," said Eric Hanushek, an education policy analyst and economist at Stanford's Hoover Institution. "How you spend the money is much more important that what you spend."
Hanushek doesn't dispute that California schools could use more funding. But he believes any conversation about revamping the state education budget should include changes to the ways teachers are paid and evaluated.
"When you don't reward teachers who are really good in the classroom, and you don't get rid of teachers are really bad, it's not going to fix the dreadful achievement problem in California," he said.
School districts have until June 30 to balance their budgets. Meanwhile, the governor's May budget revisions will offer the next update on his spending plan.
San Diego Unified does not expect to influence the governor's latest budget proposal, nor does it want to come across as ungrateful.
"This whole thing could be scaled down," said Martha Alvarez, the district's director of government relations and its eyes and ears in Sacramento. "Right now education is being seen as the winner, even though what we are talking about is a long-term conversation about how to make school funding reliable and sustainable."
The $6.4 billion in education funds for K-12 schools in the budget proposal released earlier this month includes about $2.3 billion in one-time funds, and more than $4 billion in ongoing funds to be distributed under Brown's Local Control Funding Formula.
San Diego Unified expects to use its portion to lower class sizes in the earliest grade levels and hire more counselors. It may also be able to cut the $81 million deficit projected for its $1.1 billion operating budget in half.
It's quite interesting to read this opinion article as it talks about education in comparison to the entire state budget.
____________________________
Gov. Jerry Brown says that if his 2015-16 budget is adopted, California will be spending an average of $13,462 on each of its 6 million K-12 students, or about $81 billion.
The numbers most assuredly are wrong because they are calculated on assumptions of variable factors that cannot be precisely predicted and omit some factors altogether.
They don't include, for instance, $2.4 billion the state spends each year to repay school construction bonds, or nearly another half-billion dollars it spends on teacher pensions.
The total, therefore, may be closer to $84 billion from the state's general fund, local property taxes and federal funds, or about $14,000 per pupil, and it could approach $15,000 by 2016. Legislative budget analyst Mac Taylor believes that schools may receive another $2 billion in the current fiscal year alone due to rising revenue.
Proposition 98, the constitutional provision governing school finance, requires that schools get virtually all revenue increases, and that's beginning to grate on advocates of health and welfare services and higher education who yearn to recoup what they lost during the Great Recession.
"It's great for education, not for other parts of the budget," Senate Budget Committee chairman Mark Leno said at a hearing last week, adding, "It all goes to (Proposition) 98."
Despite the surge of money, however, California's per-pupil education spending is still relatively low vis-à-vis other states.
Comparisons are tricky because there's no consensus on what to include in the calculations, and aggregate data are always a year or two out of date, which makes for a moving target.
We know that California's school spending has been on the rise, up roughly $1,000 per kid in the last two years alone and at least $3,000 each since Brown became governor again in 2011.
However, we also know that by all state-by-state comparisons, California ranks somewhere below the national average, and perhaps near the bottom if the state's high cost of living is included, as the National Education Association does.
By the Census Bureau's latest accounting, which is 2 years old, California was the 16th lowest in per-pupil spending, about $1,500 below the national average, with some states spending as much as $20,000 per pupil. But with the most recent increases, we may have moved a bit closer to the national average.
If the gap between California's spending and the national average is still $1,500, it would cost about $9 billion more per year to close it. To reach $20,000 and join the spending leaders, the tab would be perhaps $30 billion more, which would be the equivalent of a nearly 50 percent increase in income taxes, a 50-plus percent hike in property taxes or more than a doubling of sales taxes.
Tax hikes of those dimensions, even for something as popular as education, are, to say the least, unlikely.
Call The Bee's Dan Walters, (916) 321-1195. Back columns, sacbee.com/dan-walters. Follow him on Twitter @WaltersBee.
Read more here: http://www.sacbee.com/news/politics-government/dan-walters/article8086383.html#storylink=cpy
All I can say is shame on Governor Brown and the CTA.  
----------------------------------------------------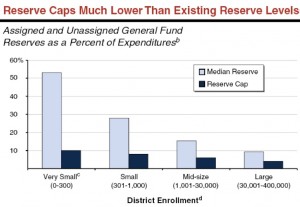 The California School Boards Association's campaign to persuade the Legislature to reverse a cap on school district reserves got a boost this week when the Legislative Analyst's Office issued a report issued endorsing a repeal.
"Less stability in academic programs, increased fiscal distress, and higher borrowing costs all are notable risks associated with lower levels of reserves," wrote the LAO, a non-partisan, independent agency that advises the Legislature. It issued the report Wednesday.
Last June, at Gov. Jerry Brown's urging, lawmakers passed a statute placing a ceiling of 3 to 10 percent on districts' end-of-year reserves. That cap amounts to no more than twice the minimum reserves required by law, depending on a district's size.
For a medium-size district with between 1,000 and 30,000 students, the ceiling would be 6 percent, less than a third of the median reserves those districts had put aside in 2013-14.
The cap would take effect only in years when the state puts any amount of money into an education rainy day fund that voters approved as part of Proposition 2 last November. The LAO projects that the first contribution to the rainy day fund is at least four years away and then, because of restrictions written into the law, it won't be funded often.
But the LAO agrees with the school boards association that reserve levels imposed by the cap would not be prudent. Calling the cap contradictory to Brown's commitment to local control, the association has made rescinding the statute its top legislative priority.
The LAO said districts build up annual reserves for a number of reasons: to even out revenue fluctuations, to guard against financial uncertainty and projected drops in enrollment, to protect against emergency repairs and lawsuit judgments and to save for expected expenses, like technology upgrades. Smaller districts, generally more financially vulnerable to adverse events, tend to have bigger reserves: In 2013-14, the median reserve of a district with less than 300 students was 66 percent. The median was 35 percent for districts with 300 to 1,000 students.
Reserves reached a historic high in 2010-11, as districts responded cautiously amid big state cuts in education funding and uncertainty over the passage of Proposition 30's temporary tax increases. Reserves have begun to come down. Fewer than 10 percent of districts would meet the requirements of the cap, were it in effect last year, the LAO said.
The California Teachers Association urged Brown to support the cap, arguing that districts should be restoring programs instead of stockpiling taxpayer dollars. The LAO found that reserves in 44 mid-size districts had reserves exceeding 42 percent, twice the median.
But the LAO also said that reserve cap would be far below what credit agencies require for a top rating, therefore likely forcing many districts to pay higher interest rates on bonds and short-term borrowing. Other districts would face difficulty meeting emergency repairs and would have only a few weeks of payroll in reserve. Districts could ask their county offices of education for a yearly exemption from the restrictions.
The cap statute also requires districts to justify higher than permitted reserves at a yearly public hearing, starting in 2015-16. The LAO supports the public disclosure provision, which it says would force school boards to discuss the trade-offs of additional spending and saving.
LAO financial analyst Kenneth Kapphahn wrote the report.
John Fensterwald covers education policy. Email him or Follow him on Twitter. Sign up here for a no-cost online subscription to EdSource Today for reports from the largest education reporting team in California.
We all know it's very early in the state budget game and we are all holding our breath...wondering if LCFF will really continue to be funded as promised when it was first rolled out two years ago. As of now, education funding is looking good for 2015-16. But years of declining enrollment and reduced funding have left so many of us in the field nervous and skeptical. I get it....I feel the same way.
I think this is a good time to really try to let go of these last several years of hard decisions and reduced funding and the scars they've left. This is not to say that we aren't cautious and careful in our actions. Still, we need to be ever present of how we carry ourselves in open meetings and with our stakeholders. It's easy to let the negativity of the past impact us now and that is a recipe for disaster.
Let's try to keep a positive but prudent outlook as the 2015-16 state budget unfolds. As always, we will watch carefully but we can do so with optimism and a smile on our face. (If nothing else, we know it's not 2008-09!) 
---------------------------------
Gov. Jerry Brown plans to propose a $113.3 billion general fund state budget Friday that holds fast in response to the University of California's threat to raise tuition unless the state gives the university system more money.
The budget includes the same, modest annual funding increase – $120 million – that Brown has previously proposed for UC, on the condition that tuition remain flat, a source said.
The California State University system, which has not threatened a tuition increase, is also expected to receive a $120 million budget increase, as well as $25 million in one-time money to help with degree completion efforts.
K-14 education is the big winner in the plan, with Brown expected to propose an increase of about $8 billion, including $1 billion for community colleges, the source said.
The response to UC's tuition proposal comes in a budget plan that formally opens months of budget talks at the Capitol. The spending plan comes four days after Brown was sworn in for a historic fourth term and includes ongoing funding for high-speed rail and California's expanding Medi-Cal program, while increasing reserves and paying down debt.
The spending plan is expected to reopen a persistent conflict between Brown and the Democratic-controlled Legislature over how much money to spend on health and human services programs cut during the recession. Brown's budget includes more money to cover increased caseloads, but no significant spending for new social service programs.
The state's fiscal situation has improved markedly since the depths of the recession that took hold in 2008. The budget assumes a $4 billion increase in revenue through June 2016, according to a source.
The Brown administration has said the governor's budget plan will include a proposal to reduce California's nearly $72billion in unfunded retiree health obligations. The budget proposal was described by the source as a call to bargain with labor unions to reduce costs.
In addition, Brown said in his State of the State address Monday that cities and counties will soon get $533 million toward paying off unreimbursed state mandates. That is more than double recent estimates.
Brown also called Monday for more money for road improvements, though it is unclear how extensively he will address that proposal Friday or if it will take shape over the coming weeks and months.
The budget proposal will include $2.4 billion from the newly approved Proposition 2, half for the rainy-day fund and half to pay down debt. The rainy-day fund would total $2.8 billion by June 2016.
On Monday, Brown said schools will receive $65.7 billion, a 39 percent increase from four years ago. Besides more money, Brown's past two budgets have included major policy changes in school finance.
In 2013, Brown presented his plan to revamp the state's system of school funding and to target extra money for the state's neediest students, known as the Local Control Funding Formula. His January 2014 proposal included his plan to begin paying down more than $74 billion in unfunded teacher pensions.
The pot of state bond money to help pay for new school construction and to modernize existing facilities is almost empty, and Brown has called for major changes in the program. Driving home that point, the governor last August helped scuttle fast-moving legislation to place a $4.3 billion borrowing measure for schools on the November ballot.
Department of Finance spokesman H.D. Palmer said this week that the administration still wants to revamp the school facilities program. He declined to comment on whether Friday's plan will include a new approach – or any money to help pay for it.
The source said Brown does not plan to include any significant new money for school facilities in the budget, but will seek increased flexibility for local funding measures, as well as changes in law to provide future funding for certain facilities.
Brown and lawmakers last year pledged future proceeds from the state's carbon-reduction program to help prop up California's $68 billion high-speed rail project.
The agreement includes 25 percent of future revenue from cap and trade – money industries pay to offset air emissions – and the budget is expected to estimate total cap-and-trade revenue of $1 billion in 2015-16, the source said.
Even before the budget's release, the administration has warned of a likely increase in future Medi-Cal costs.
Palmer said President Barack Obama's recent executive action to shield 4 million unauthorized immigrants from deportation nationally will cost California millions of dollars. More definite costs are not expected for several months.
Call Jim Miller, Bee Capitol Bureau, (916) 326-5521. Follow him on Twitter @jimmiller2. Christopher Cadelago and Laurel Rosenhall of The Bee Capitol Bureau contributed to this report.
Read more here: http://www.sacbee.com/news/politics-government/capitol-alert/article5659146.html#storylink=cpy
/