Shopping Cart
Your Cart is Empty
There was an error with PayPal
Click here to try again
Thank you for your business!
You should be receiving an order confirmation from Paypal shortly.
Exit Shopping Cart
California School Fiscal Services
Providing comprehensive business office and consulting services to K-12 traditional schools and charters
At the urging of Gov. Gavin Newsom, a bill that will require charter schools to be more accountable and transparent is making its way swiftly through the legislature and may be the first of several bills seeking to tighten oversight of charter schools.
Senate Bill 126 would require that California charter school boards comply with the same open meeting, conflict-of-interest and disclosure laws as district school boards, including holding public board meetings, opening records to the public upon request and ensuring board members don't have a financial interest in contracts on which they vote.
The bill was introduced by Sen. Connie Leyva, D-Chino and Assemblyman Patrick O'Donnell, D-Long Beach. It passed the state Senate Thursday with a 34 to 2 vote and will go to the state Assembly for a vote as early as next week. If it passes, the law will go into effect Jan. 1.
The bill met no opposition from the California State Charter Schools Association, although it did not formally support it.
Leyva said she was able to get Senate Bill 126 through with little resistance because all parties, including representatives of the charter school association and teacher unions, were at the negotiating table hammering out the details.
Not everyone was happy with everything in the bill, but everyone felt they had input, she said.
Supporters say Senate Bill 126 is needed because charter schools, while publicly funded, are not required to follow the same rules for transparency and accountability that govern other publicly funded schools, Leyva said before the vote.
"SB 126 directly responds to Governor Gavin Newsom's call for swift action to resolve ongoing charter school transparency issues," Leyva said.
There has long been debate over whether charter school board members are subject to the same open meeting and conflict-of-interest laws as school district boards, she said. The California Attorney General's office recently weighed in on the discussion with an advisory opinion that charter schools are subject to the same good government laws as school districts.
Gov. Jerry Brown vetoed similar legislation three times because of concern that those bills went too far in prescribing how the boards must operate.
"It's about transparency and accountability," said Sen. Hannah-Beth Jackson, D-Santa Barbara, before Thursday's vote. "Charter schools receive quite a few taxpayer dollars. There needs to be sunshine in all public schools and their governing bodies and this is what this bill stands for."
Many charters already abide by open meeting and public records laws, either voluntarily or because of agreements with the entities that granted their charter, said Carlos Marquez, senior vice president of governmental affairs for the California Charter Schools Association.
Sen. John Moorlach, R-Costa Mesa, who abstained from the vote, expressed concern Thursday that charter schools are becoming the "fall guy" for the financial woes of school districts. "I think you have to look past a lot of other culprits like pensions," he said, referring to the high costs districts face to fund teacher and administrator pensions.
Parents select charter schools because there aren't enough great public schools, Moorlach said.
"Tightening the screws on charter schools may be a misdirected solution," he said. "… SB 126 is a Band-aid when major surgery is needed."
The drumbeat to increase oversight of charter schools has grown louder since last year when increased charter accountability became an issue in the governor's race and a temporary moratorium on charter schools was debated during the California state superintendent of public instruction contest. It grew louder more recently, as teachers in two major California cities — Los Angeles and Oakland — went on strike demanding higher pay and more state resources for classrooms.
California has the most charter schools in the country — 1,323 schools enrolling 660,000 students, according to the California Charter School Association. Seventy new charter schools opened in the 2018-19 school year. Twenty-five of those were in the greater Los Angeles area and 17 were in the Bay Area. Fifty-three charter schools closed or returned to a traditional school in the 2017-18 school year.
Teachers unions say that charter schools sap resources from school districts, who get paid by the state based on the number of students in their seats each day. In Los Angeles and Oakland striking teachers have demanded that their school boards curb charter growth.
The new contract with teachers in Los Angeles Unified that ended the strike in January included an agreement to ask the Legislature and Gov. Newsom to impose an eight to 10-month moratorium on charter schools in the district while the state studies the financial impact and other effects of charter schools. Oakland Unified's school board and teachers have made a similar request.
In response, earlier this month, Newsom called on State Superintendent of Public Instruction Tony Thurmond to establish a panel to research the impact of charter school growth on district finances. The panel, which is still being formed, will report back to Newsom on July 1.
This is the first time there has been an in-depth look at the financial impact of charter schools since the passage of California's first charter law in 1992. The law prohibits school boards from taking the financial impact of a charter school on their district into account when deciding whether to grant or reauthorize a charter.
Los Angeles has 227 charter schools with 110,000 students — about one-sixth of its student population – and Oakland has 44 charter schools with 50,000 students — about half the district's students.
Marquez said he hoped that Senate Bill 126 would encourage more collaboration between school districts and charter schools.
"Hopefully, we will take this cudgel off the table for our opponents, to perhaps de-escalate some of the rhetoric around charter schools being for-profit centers and our board members looking to get into the work of public education to line their pockets," he said. "We couldn't disagree with those assertions more vehemently. So, hopefully settling this area in law will put those falsehoods to bed."
Seth Bramble, legislative advocate for the California Teachers Association, the teachers' union, said charter schools were established to encourage innovation and to share best practices. "But the people cannot learn from this innovation if the people's business is being conducted in private," he said.
Assemblyman Kevin McCarty, D-Sacramento, said there are other charter school accountability and financial oversight proposals being considered.
"One thing I'm exploring is a notion of a cap for new charter schools in California that will allow some capacity for charter schools to expand when low-performing schools are phased out or shut down," McCarty said. "This will give some stability to some school districts in California related to declining enrollments."
Some districts have so many charter schools that it is unsustainable for them financially, he said.
"It isn't an aversion to charter schools as a whole, but their financial impact on the fiscal well-being of school districts across California and year-after-year growth in (charter) school population," McCarty said.
Senate Bill 126 is moving quickly. It was introduced on Jan. 10, passed the Senate Education Committee Feb. 19 at its first meeting of the year and was approved on the Senate floor two days later.
"I think this is a great way to start off the year," Leyva said.
Diane Lambert
EdSource
When former charter school executive Marshall Tuck called Assemblyman Tony Thurmond to concede in the hotly contested race for state schools superintendent, it marked another defeat for charter-school advocates in California.
Thurmond was elected California's top education official in the wave that led more liberal-leaning voters to cast ballots. Although both are Democrats, Thurmond had the party's endorsement in the nonpartisan state chief's election. He also was backed by teachers' unions, who were outspent more than two-to-one.
Independent groups supporting Tuck spent more than $36 million this cycle. Frequent political donor Bill Bloomfield, Netflix CEO Reed Hastings, and philanthropist Eli Broad also were among the biggest contributors to those efforts. Tuck's official campaign raised another $5 million.
Despite the job's limited power, the race attracted more than $50 million in outside spending. It was the most expensive state superintendent contest in U.S. history, according to an analysis by The Associated Press.
"The group of people who have provided significant funding to candidates that are associated with a charter-friendly agenda have proven that they don't have the ability to capture statewide offices," said John Rogers, an education policy expert at UCLA.
It's only the latest big loss the pro-charter school movement has suffered in California.
In June, many of the same donors were disappointed when their chosen candidate for California governor, Antonio Villaraigosa, didn't make it out of the primary despite their more-than $20 million effort to bolster him.
Tuck also ran for schools chief unsuccessfully in 2014, when incumbent Tom Torlakson beat him—again with support from the teachers' unions.
The California Teachers Association provided most of the more-than $16 million independent effort supporting Thurmond. His campaign raised more than $3 million. Labor unions and the California Democratic Party were among the biggest donors for both Thurmond's campaign and the independent efforts supporting him.
Limited Power
The state superintendent of public instruction oversees the California Department of Education and chairs the State Board of Education. The office doesn't have much direct control over education policy in California, although it's seen as an influential position.
Thurmond, a member of the state Assembly, opposed diverting money from traditional public schools into public charter schools.
"I intend to be a champion of public schools," Thurmond said in a statement announcing his victory. "All students, no matter their background and no matter their challenges, can succeed with a great public education."
Tuck, meanwhile, emphasized giving parents more choices in where to send their children, including nonprofit charter schools. He also advocated for directing more money to teachers in schools with high populations of low-income students, English-learners, and children in foster care.
Both opposed for-profit charter schools.
The campaign spending illustrates tensions between factions of the Democratic Party more aligned with labor unions and others more aligned with business, especially in Silicon Valley, Rogers said.
"Those who were engaging in this funding wanted to communicate a message about their importance and the weight that they carried in statewide politics," he said.
"You would never expect an election for state superintendent of public instruction to get this much attention."
by the Sacramento Bee
What does the "father" of California's quarter-century old charter school law think of it now? EdSource recently caught up with former State Sen. Gary Hart, a Democrat who represented Santa Barbara in the Assembly and Senate for 20 years before retiring in 1994. In 1992, as chairman of the Senate Education Committee, he authored the nation's second charter school law. Sue Burr, a consultant to the committee at the time and currently a member of the State Board of Education, played a major role in drafting it. EdSource writer John Fensterwald asked Hart in an interview and in writing what he was trying to do then and how, in hindsight, he might write a different law today. The answers have been edited for length and clarity.
The original law capped the number of charter schools statewide at 100, with no more than 10 in any one district and 20 in Los Angeles Unified. In 1998, the Legislature raised the limit to 250 charter schools plus an additional 100 more each year after that.
EDSOURCE: Is it as you envisioned, that we would have more than 1,200 charter schools in California?
HART: No. It's always hard to predict how legislation is going to play out. Although it was very contentious, I didn't view it as something that was going to be earth-shaking or have the magnitude that it has.
The original law called for up to 100 charter schools. That was changed a number of years later. When the law first passed, we had no idea as to whether there would be any charters. It was like you give a party and you don't know if anyone will come or not. It was kind of slow in the beginning. The accelerated growth has been just extraordinary, and it's not something that not only myself, but I don't think anybody else could have predicted or even imagined.
EDSOURCE: So what do you attribute that growth to? Are the charter schools from what you can tell doing collectively or individually what you would have hoped?
HART: It's really hard to generalize because charters vary so much. Generally speaking, I'm supportive. With any legislation of this magnitude, there are always going to be issues and concerns. I do think there has been such a focus on how many new charters, it's focusing on quantity and I had hoped initially there would be a lot more focus on quality, a more careful review of charters.
EDSOURCE: One of the questions originally was whether charters should be seen as a way to innovate and set examples for other district schools to learn from or to give parents a choice in high-poverty neighborhoods where they are dissatisfied with their schools. Those are really two different focuses.
HART: I think it was both. First and foremost was innovation and reform, giving an opportunity for people to do things differently and not be constrained by all of the rules and regulations from the district, from collective bargaining.
I heard over and over again from school folks, "Stop passing all these laws. We're spending all of our time being compliance officers and bureaucrats and we're not able to do our jobs as educators." I thought that there was some truth to that and so passing this law really gave an opportunity for educators to be educators and not be as concerned about rules and regulations.
After the law was passed, there wasn't much that came forward either from teachers or administrators or school board members who had complained bitterly about state laws. Instead of going out and doing it, a lot of people resisted. That's not to say they were wrong because going through the whole process can be quite time-consuming and there's a lot of blood on the floor sometimes for establishing these things.
This other aspect was also important — the people who felt that the existing schools, particularly in low-income areas, were not serving their needs; their school districts were too large or dysfunctional. They needed to have something that would be their own.
One of the concerns was, "This charter law will be for sophisticated parents who have a lot of time on their hands." It was somewhat of a surprise to see that places like LA Unified and Oakland and other large urban school districts were where the charters were taking off. I think there was a dissatisfaction on the part of parents, but also because the business community and the foundation community got behind these efforts and provided resources. I never anticipated that charter management organizations would have such an important role.
EDSOURCE: The financial impact on a district was not part of the law. Was it brought up at the time?
HART: I don't think so. The law didn't have large-scale financial ramifications. We were talking about 100 charters statewide.
The bill was a major effort to try to defeat the voucher proposal that was going to be on the ballot and we saw it as an alternative to vouchers that would not go down that path of providing the large taxpayer subsidies to private schools and violating the church-state separation right. (Editor's note: Prop. 174, which would have given parents a tuition subsidy to a private or parochial school equal to half of per-student funding at public schools eventually did make the November 1993 general election ballot; voters defeated it 70 to 30 percent.)
There was strong teacher opposition to the charter legislation from both AFT (American Federation of Teachers) and CTA (California Teachers Association) even though ironically, I got the idea from Al Shanker (the late president of the American Federation of Teachers) who had written about it. I was a great fan and Shanker had come out and testified on a number of occasions to legislation that we were considering.
"Charter fights in places like L.A. Unified have become almost religious wars, where large amounts of money are spent, and having an appeals process that is less political makes sense to me."
The focal point of the unions was largely to ensure that collective bargaining laws would not be tampered with in the charter law. That issue was very contentious and I refused to budge. My position was that there needed to be a choice for teachers whether to form a union at a charter school.
Legislative 'jiu-jitsu'
EDSOURCE: How did you ever get it passed?
HART: It wasn't easy. The unions were strongly opposed and many other education groups — ACSA (Association of California School Administrators) and CSBA (California School Boards Association) — were neutral perhaps because they didn't want to antagonize CTA. It was pretty lonely out there. We engaged in some legislative jiu-jitsu and pulled the bill out of conference committee and passed it quickly off the Senate floor with no debate and sent it to Gov. Wilson, who signed it into law. If we had followed traditional procedures and the unions had had time to work the bill, it likely would not have passed.
EDSOURCE: Did it become apparent that there would be resistance and that some folks in many districts at the time didn't like competition? You knew that, right, because you set up an appeals process?
HART: We did, and it wasn't that we had a cynical view towards school districts, but there was a potential conflict of interest that made, I thought, an appeals process a good idea. School boards and school administrators might oppose any charter because it might mean less district control, less revenue and more competition. So having an appeals process made sense and I thought county boards, who were also elected and had a sense of local issues, were the right bodies to hear appeals. Six years later the charter law was amended to provide another appeal to the State Board of Education. I understand now the state board spends up to half its time hearing charter appeals, which I'm not sure is a good use of state board time given all the other policy matters on their plate.
EDSOURCE: Would you eliminate that ultimate appeals process because it's not a good use of (state board) time, or do you think someone else ought to be the ultimate authority or should you just keep it at the county level and whatever happens there happens?
HART: I still believe a charter appeals process is a good idea but charters are now becoming a campaign issue with some county boards of education so I'm not sure they are the right venue for appeals. Charter fights in places like L.A. Unified have become almost religious wars, where large amounts of money are spent, and having an appeals process that is less political makes sense to me. Perhaps the State Board of Education could appoint an expert panel to review and have the final say on charter appeals. I favor making the process less political and handled by more neutral people.
Financial impact on districts
EDSOURCE: Some districts are very frank about the financial impact of charter schools. "Look, we can't afford it. We're making cuts and you're asking us to start new charter schools adding to the financial problems we have." If you were to redo the law, would you hold a district harmless for the financial impact or compensate it for the impact of a charter?
HART: Some districts face loss of revenue due to charter growth, and many districts face unsustainable long-term employee health care costs and all districts face escalating pension contributions. A review of state financing seems in order. We have had funding adjustments to mitigate for declining enrollment. Perhaps something like that ought to be considered for districts with many charter schools. But a strict "hold harmless" for districts losing students to charters doesn't make sense, as it would reward districts for not being competitive and it might also provide an incentive for districts to push out "undesirable" students. Trying to accommodate various factors that are affecting the financing of a district gets very complicated. There are unintended consequences you have to be careful about.
Districts have many financial challenges and it seems to me that charters are not the primary or even significant part of the financial problems districts face in the long term — those problems are going to remain with or without charter schools.
EDSOURCE: Looking back, seeing what people are saying now are some of the challenges to the law, what changes might you make?
HART: We now have more than 1,000 charter schools in California and we know little about their successes and failures. Some work has been done comparing charter to traditional public schools on student achievement but, given the great variety of charter schools, I'm not sure about the value of that body of research.
I would be interested in research on topics like school size — charters tend to be smaller. School mission — charters tend to have a specific rather than a comprehensive mission. Accountability — it's easier to dismiss staff in charter schools. And school governance — charter board members are not elected by the general public and do not have to raise money to run for office. There's a lot to explore with 25-plus years of experience and data.
I think we're hungry for highlighting and replicating what is working well, whether it's in a charter school or in a traditional school. We don't do a good job of that.
Paul Peterson and Albert Cheng | March 27, 2018
For Democrats and Republicans alike, charter schools have long provided a happy compromise between vouchers for religious schools and no school choice at all. Charters give families an alternative schooling option but remain publicly funded, secular institutions authorized by government agencies. They have been warmly endorsed by Presidents Bill Clinton, George W. Bush, Barack Obama, and Donald Trump.
Unfortunately, the aura of bipartisanship surrounding the charter movement suffered heavy collateral damage during and after the intense battle over Betsy DeVos's confirmation as Trump's secretary of education. The NAACP and other civil rights groups called for a moratorium on the formation of new charter schools, despite the fact that black and Hispanic children are more likely to attend and benefit from charter schools than are white children.
As these highly publicized events unfolded, the share of the public who answered yes when asked whether they support "the formation of charter schools" fell from 65 percent in 2016 to an all-time low of 52 percent in the spring of 2017, according to annual polls conducted by Education Next and administered by the Harvard Program on Education Policy and Governance. This 13-point free fall was especially dramatic because charters had previously garnered high, steady levels of support.
But in January, the poll results reversed course. A nationally representative online survey of 4,617 adults administered by the University of Southern California's Understanding America Study and later analyzed by the Education Next team at Harvard posed the same question asked in 2017 — and found the share favoring charters had jumped by 10 percentage points, from 52 to 62 percent. That's nearly the same level attained in 2016, before the postelection hullabaloo began. (The poll had a margin of error of plus or minus 2 percentage points.)
Still, it may be too soon for charter school advocates to celebrate, as the bitter struggles of the past year have polarized the public along partisan lines. Charter support in the January poll leaped by 14 percentage points among those who identified with the Republican Party but did not budge at all among Democrats. Instead, a growing partisan gap opened even further.
As late as 2010, members of the two parties did not differ significantly in their opinions about charters. But by 2015, a 20-point gap had opened up, and now it has grown to 30 percentage points: 75 percent of Republicans, but only 45 percent of Democrats, support the formation of charter schools. This method of school reform is at risk of becoming still another beanball hurled in an unending slugfest between the two parties.
Still, support for charters among the black and Hispanic communities helps to offset this partisanship. Despite the NAACP's new anti-charter position, majorities of both groups favor the formation of charters at roughly the same level as whites do. By serving black and Hispanic families well, charters may still be able to sustain a broad-based coalition. Nurturing such coalitions to seek the common good would be a welcome respite from the tribalism of our times.
Be sure to check out Education Week's new e book on the charter school movement over the last 25 years.  It's a great resource and provides a solid overview of the movement highlighting key events.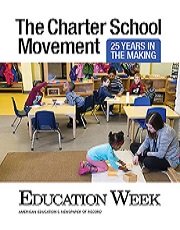 Happy Monday!  It's opening day for second interim.  Let's go!!!!!!
An interesting blog on a "third way" to ensure that charters and districts can co-exist for the betterment of all students.  Take a few minutes and check it out before second interim takes over your life.  
--------------------------------------------
Resolving the Charter School Debate
By Cami Anderson, Ed Week, January 27, 2016
The debate over the future of our nation's education system continues to divide the country. On one side we have advocates of market-disrupting charters looking to eliminate the bureaucracies they believe inhibit education. On the other, public school activists are committed to preserving a system that has failed many students for decades. There is, however, a third option that would allow both charter and traditional public schools to thrive and serve students with diverse needs across educational levels.
Cities like Newark, N.J.; Washington; and Denver are pursuing groundbreaking approaches by embracing both charters and traditional schools. Leaders from both sides have begun to step up and assume collective responsibility for providing a quality education to all students, regardless of which school they attend. They are building a mixed education market that draws on economic principles of competition and our country's founding commitment to equity so that all families have access to a variety of great educational choices.
The original concept behind charters was sound: Create new options in poor communities with low-performing schools so children have an immediate chance for success. Charter schools would be held accountable for results and their leaders freed from antiquated policies and practices. Charter proponents hoped this flexibility would create the conditions for higher student achievement outside of district schools and generate promising practices for reform more broadly.
And the initial plan worked. In places like New York, Chicago, Los Angeles, and Houston, high-performing charters serving student populations similar to traditional schools delivered radically better results. Excited by early successes, reformers and advocates pushed for more charters, faster. Private-sector funders cheered because it meant injecting competition into a broken monopoly.
But charters are not a silver bullet, and their expansion can create unintended consequences for communities. In my time as the superintendent of schools in Newark, I came face to face with the realities of aggressive charter-market-share expansion. While high-performing charters offered better options to lottery winners, their rapid growth had the potential to make things worse for families that lost.
An analysis for our One Newark plan projected that over the course of seven years, charters would grow from serving 5 percent of students in 2010 to 40 percent of students in 2017. This trend threatened to leave more than half of Newark's students in dysfunctional schools that were, at the time, losing students and resources, while being staffed by the most senior—but not always effective—teachers.
"Charters are not a silver bullet, and their expansion can create unintended consequences for communities."
When students leave a traditional school to attend a charter, the money goes with them, along with jobs and contracts that sustain fragile economies and fuel local politics. My team and I needed to find a way to help charter schools increase their positive impact while lifting up traditional schools so that all of Newark's students and neighborhoods thrived.
The first step was to level the playing field so everyone had an equal chance to get into a good school. Traditionally, each charter ran its own lottery, which resulted in confusion and difficulty for already-burdened families. We created a one-stop enrollment system that every school—charter and district alike—was required to participate in, giving all families access to the same options.
This universal-enrollment system, staffed with family advocates, began to change the dynamic that favored charter-school-lottery winners and left everyone else—often those schools with the fewest resources—with the leftovers.
Next, we worked to give district schools the same flexibility and tools that allow charters to succeed. We overhauled our teacher-evaluation system to retain high performers and let go of low performers. Excellent teachers were included in the process, and passionate leaders with entrepreneurial spirits and effective management skills were installed in schools. Our focus on best-in-class training and coaching encouraged teachers and leaders to move the district toward the future.
Finally, we sought to end the divide between the district and charters by aligning charter-growth plans with community needs. We asked charters to take over schools in the toughest neighborhoods with high family demand, instead of growing one grade level at a time in new buildings where they got the best real estate deals. Charters agreed, renovated historic buildings, and kept the traditional school names. Schools that would otherwise have closed, hurting our poorest neighborhoods and making politics even tougher, are now community anchors.
Our mission from the outset was to ensure 100 percent of schools in Newark were excellent, located in thriving neighborhoods, and supporting all students. The early results are encouraging. Graduation rates are climbing. Overall enrollment is up for the first time in over a decade—a critical sign of health. A recent study by the Center for Reinventing Public Education showed that 40 percent of Newark students are enrolled in "beat the odds" schools—those that outpace demographically similar schools statewide—far above the average of only 8 percent across the 50 cities studied.
Even with this progress, cities like Newark and states like New Jersey have miles to go to truly create the charter-like conditions necessary for district schools to compete. This will take courageous public policy and leaders to completely rethink laws governing tenure, civil service, and service contracts. Ironically, those organizing to protect a broken status quo are creating the very circumstances that make charters feel like the only option for advocates and families who want results now.
Cities and states across the country can embrace and build on Newark's example to foster a diversified market with more choice, higher quality, equal access, and a community focus.
The mixed-market approach will work only if we redefine success. It is not about expanding charters or saving districts. We all need to stop the polarizing discussion and come together to create a blended model, a third way, of giving all students in all neighborhoods access to the best education possible, rather than treating children like pawns in our political games.
Cami Anderson was the superintendent of public schools in Newark, N.J., from 2011 until 2015.
/