Shopping Cart
Your Cart is Empty
There was an error with PayPal
Click here to try again
Thank you for your business!
You should be receiving an order confirmation from Paypal shortly.
Exit Shopping Cart
California School Fiscal Services
Providing comprehensive business office and consulting services to K-12 traditional schools and charters
If you are thinking of going out for a bond, be sure to read this article from the Howard Jarvis Taxpayers Association.  
------------------------------------
It's not often that taxpayers get good news, especially in tax-happy California. Even more surprising is when the good news is an official opinion from the state's Attorney General, someone not normally associated with friendly treatment to taxpayers.
Last November, this column noted that local governments, especially school districts, were prone to engage in questionable campaign activity to secure an unfair advantage in bond elections. Although it is illegal for officials to use public resources (including public funds) to urge a vote for or against a political issue, consultants frequently advise tax proponents to wage one sided "informational" campaigns. This includes sending out material stating all the good things a bond or tax measure will do, but usually they stop just short of violating the law by telling people how to vote. (Howard Jarvis Taxpayers Association has had multiple successes in obtaining court injunctions against school districts that cross the line into advocacy, but by the time the court rules, the political damage has already been done.) And to top it all off, the "consultants" compensated with taxpayer dollars are frequently given financial incentives if they win.
Fortunately, the incestuous behavior of school districts with political consultants and bond salesmen received a long overdue slap down last week. The opinion, in response to several questions proffered by California's Controller John Chiang, covers many activities taxpayers have been complaining about for years. As noted in the opinion, "Bond elections typically involve a range of pre-election activities, which can include: conducting opinion surveys to evaluate voters' attitudes toward a bond issue; developing a financial plan; determining appropriate bond issuance size and tax rates; drafting documents needed to place a bond measure on the ballot; conducting a public-information program; training staff to inform the community about funding needs and bond financing; preparing a tax-rate statement for the voter pamphlet; providing information to the election campaign; conducting informational workshops; and preparing the ballot question itself. Although district staff may be able to provide some or all of these functions, it is common for districts to contract with private vendors to perform or support them [and a] practice has developed within the municipal financing industry whereby investment bankers, financial consultants, and bond attorneys (collectively referred to here as "municipal finance firms" or "firms") offer to contract with a school district to provide the pre-election services that the district seeks. Under such an arrangement, the firm agrees to provide the pre-election services at no, or reduced, charge to the district in exchange for the district's promise to select the firm as its contractor to provide post-election bond services, if the bonds are approved by the voters."
The Attorney General first concluded what should already be obvious: "A school or community college district violates California constitutional and statutory prohibitions against using public funds to advocate passage of a bond measure by contracting with a person or entity for services related to a bond election campaign if the pre-election services may be fairly characterized as campaign activity."
But the A.G. went on to conclude more specifically that "a school or community college district violates prohibitions against using public funds to advocate passage of a bond measure if the district enters into an agreement with a municipal finance firm under which the district obtains pre-election services (of any sort) in return for guaranteeing the firm an exclusive contract to provide bond-sale services if the election is successful, under circumstances where (a) the district enters into the agreement for the purpose (sole or partial) of inducing the firm to support the contemplated bond-election campaign or (b) the firm's fee for the bond-sale services is inflated to account for the firm's campaign contributions and the district fails to take reasonable steps to ensure the fee was not inflated."
Admittedly, there's a lot to unwrap here. But the upshot is that taxpayers should not be forced to finance a political campaign to raise taxes.
Obviously, there are times when the legitimate capital needs of a school district justify a request to voters to assume debt in the form of a school bond. But the process should be driven by actual educational needs, not the desire of consultants and the bond industry to make a fast buck.
Jon Coupal is president of the Howard Jarvis Taxpayers Association — California's largest grass-roots taxpayer organization dedicated to the protection of Proposition 13 and the advancement of taxpayers' rights.
By now, I expect that most of you have seen the video associated with this story of a paraprofessional assaulting a young special education student while other adults hold him down. It's disturbing to say the least.
Here's my take-away and hope that maybe some good can come out of this.
As the CBO, you are likely pretty removed from the day to day activities going on in special education. However, I know for sure that you see that non-public school bill that comes into your office and it probably demands your attention because it is so high. There is no question that special education non-public school placements are costly.
When was the last time someone from your district reviewed the various non-public school options in your district? Does someone from your special education department routinely go out to these sites and visit? Do they make unannounced visits on a regular basis? If you don't know the answers to these questions, then I encourage you to sit down with your Director of Special Education and find out. You may even consider getting out of the office and go for visit with your Director. Take a good look at where you money is going and if you are happy with what you see. A placement for services outside of your district should not equate to a "out of sight, out of mind" philosophy.
Non-public schools serve a purpose but in my experience, there are a lot of bad apples out there. Be sure your district isn't sending students to one of them.
-----------------------------------------------
By Matthias Gafni [email protected]
ANTIOCH -- Police arrested a 26-year-old teacher's aide Wednesday on suspicion of felony child abuse after learning of a disturbing video taken inside a school for special-needs students that shows the employee slapping and assaulting a young boy as co-workers laugh and film the incident.
Police arrested Kamaljot Kaur at her Antioch home after interviewing Tobinworld 2 staff members, student witnesses and the victim, a 9-year-old Oakland boy. The boy did not have any visible injuries or complaints of pain, Antioch police said.
Investigators were called to the school Wednesday morning by school administrators, who reported that a teacher's aide had assaulted a student the day before and that video of the assault had been circulating on the Internet.
"After conducting interviews and reviewing the cellphone recording of the incident, officers determined that a felony child abuse had occurred," Antioch police Cpl. Powell Meads said.
A 23-year-old Antioch woman, a friend of the Tobinworld 2 employee who took the video, said the employee posted the clips Tuesday on Snapchat, and she found them so disturbing she captured the images and alerted Tobinworld's principal and police.
"This is the third time (since Monday) this kind of thing has been recorded by him. It was so unbearable to watch I had to do something about it," said the woman, who wished to remain anonymous.
Interim Antioch Superintendent Stephanie Anello said the district confirmed that Tobinworld 2 -- which, along with Tobinworld 3, is a private school in Antioch that serves special-needs children in the community -- notified police, and a criminal investigation is underway. She also said the boy "at the center of the video" is not an Antioch Unified student.
Tobinworld founder Judy Weber said the school first learned of the incident around 4:30 p.m. Tuesday after receiving an anonymous phone call alerting them to the video posted online. She said two teacher's aides have been suspended.
"We immediately suspended the staff involved, called Children and Family Services and notified the Antioch police," Weber said in a statement. "The student in the video returned to school (Wednesday), uninjured, and has been in class all day. We are in the process of conducting a full investigation into the incident. Tobinworld takes this event extremely seriously and will take all necessary actions once we have the full facts in this matter."
Both of Tobinworld's Antioch campuses contract with school districts throughout the East Bay to serve special-needs students, including Antioch Unified.
"Upon learning of this incident, Antioch Unified School District sent our staff members to Tobinworld 2 to provide support to our students and parents," Anello said in a statement, adding that the district learned of the video Wednesday morning.
"We have also contacted the Contra Costa County Special Education Local Plan Area and asked that they look into the matter. We take all instances of student safety seriously and will ensure that appropriate and decisive steps are taken as determined by the outcome of the investigation."
The video shows a woman wearing what appears to be a blue Tobinworld employee T-shirt striking a young boy multiple times, tackling him to the ground and throwing items at him, while men, identified by the Antioch woman as teacher's aides, hold the boy, laugh and film the incidents.
Peter Alfert, a Walnut Creek attorney who specializes in special education abuse cases and whose firm is investigating the school on behalf of concerned parents, said he did not have any independent authentication of the video, but said he was "appalled."
"What is on the video is incredibly disturbing. To think that could be a classroom in the state of California is beyond belief," Alfert said. "What is shown in the video is an out-of-control situation with some students physically abused and others subjected to it.
"This needs to be turned over to the DA," he said. "This is no school situation I've seen before."
Tobinworld has come under fire recently, facing an abuse lawsuit and a state investigation that led to the suspension of its certification, which has since been reinstated. The state probe linked the school to Matthew Israel, a controversial special education figure linked to shock therapy treatments. Israel is married to Weber, Tobinworld's founder.
For the woman who captured the videos and turned them over to authorities, she's glad it is being taken seriously.
"I had to shut that down. That was not cool," she said. "I'm praying something good comes out of this."
Antioch police are still looking for witnesses to the assault and are asking them to call investigators at 925-778-2441.
Contact Matthias Gafni at 925-952-5026. Follow him at Twitter.com/mgafni.
It's not good for our industry when laws have to be passed to keep us "in line".  
Remember, just because you have the power doesn't mean you should be using it.  Most especially, when you benefit from it personally. Integrity is doing the right thing when no one else is looking.  Don't let that truth slip away from you!
--------------------------------------------------------
By Claudia Meléndez Salinas, Monterey Herald
POSTED: 09/03/15, 3:59 PM PDT 
Introduced by Assemblyman Luis Alejo (D-Salinas), Gov. Jerry Brown signed into law Assembly Bill 215 on Wednesday. The legislation will limit severance packages to one year of salary. Previously, the cap was at a year and a half.
The bill also eliminates any cash settlement any superintendent may receive if he or she is found to have been engaging in illegal fiscal activities.
Alejo originally introduced this legislation in February 2013, and it sought to limit severance packages to the equivalent of three months salary. Also, in response to developments at the Monterey Peninsula Unified School District, where former Superintendent Marilyn Shepard had just retired, Alejo sought to limit paid leaves of absence for superintendents. The final bill contains no limits for superintendents who take leaves of absence.
"It was challenging enough to get the bill through in this narrow form," Alejo said. "It would be more difficult adding other categories."
Shepard announced in December 2012 that she would retire at the end of the school year. A few weeks later she was granted a leave of absence until then. Her yearly salary at the time was $223,315, and her leave-of-absence pay was about $93,000.
Alejo sought to limit payouts to superintendents after a report by the Sacramento Bee that listed the highest-paid school administrators in the state. The bill faced fierce opposition by the Association of School Administrators, and the current bill was achieved as a compromise, Alejo said.
"They also wanted the new standard to apply to other managers," Alejo said, referring to city managers and other high-paying administrators. He may be amenable to seeking similar legislation in the future, he said.
As example of the golden parachutes, Alejo cited the case of Esperanza Zendejas, who received $337,000 in 2005 when retiring from the East Side Union High School District. Zendejas later worked for the Alisal Union School District, where she was later ousted by then Board President José Castañeda.
Alejo believes the bill will be a good tool for schools to save money and use it for instruction.
"It's a good accomplishment and it would better ensure that the scarce education dollars are not spent in golden parachutes and keep resources for our students," he said. "This is a good fiscal discipline bill making sure dollars go in the classroom."
The bill will take effect Jan. 1.
Claudia Meléndez Salinas can be reached at 726-4370.
It looks like the Supreme Court has finally put this debate to rest.  Use this ruling as a reminder that you always need to stay on top of the competitive bid process.  If you need a refresher course, just drop me an email.  I've got some great materials that will get you right up to speed quickly.
Happy Friday!
--------------------------------------
BY MACKENZIE MAYS
The California Supreme Court has denied Fresno Unified School District's request to review an appellate court decision that criticizes the district's use of a no-bid contract.
The high court announced Wednesday it will not reconsider a 5th District Court of Appeal opinion released in June that said Fresno Unified misused a leaseback contract for the construction of Rutherford B. Gaston Middle School in southwest Fresno.
Leaseback agreements were designed to allow cash-strapped districts to build schools by going outside of the traditional competitive bidding process and handpicking consultants who will front the cost of a project and then be repaid by the district in increments over time.
But the appellate court said that was not the case when Fresno Unified signed a $37 million contract with Harris Construction to build Gaston Middle School. Fresno Unified had the money to pay for the project upfront and paid the project off as soon as it was completed.
The court's opinion has resulted in calls for Fresno Unified Superintendent Michael Hanson and some trustees to resign, with critics alleging the leaseback method was used to guarantee the project went to Harris Construction.
The FBI and the District Attorney's Office have also become involved in the case.
Fresno contractor Stephen Davis, who took Fresno Unified to court, also alleged the school district broke conflict of interest laws because the district hired Harris Construction as a consultant on a project it was ultimately awarded.
Kevin Carlin, attorney for Davis, said he plans to continue to push the conflict of interest issue in court and wants the millions paid to Harris Construction for the Gaston Middle School project to be returned to Fresno Unified.
"Today's Supreme Court decision accomplishes two very important things that promote good governance and protect school districts and taxpayers," Carlin said. "It prohibits school district consultants from being awarded construction contracts for projects they have consulted on, i.e. no foxes guarding the hen house; and second, it requires competitive bidding for any lease-leaseback arrangement that is not a genuine lease or does not include bona fide contractor financing."
Fresno Unified spokeswoman Amy Idsvoog said Wednesday night that the Supreme Court's decision was "unexpected."
"At this point in time, no ruling has been made at any level determining that Fresno Unified's contract with Harris was illegal or that Fresno Unified may not continue to use the lease-leaseback process in the future," she said.
Fresno Unified Superintendent Michael Hanson said at a school board meeting Wednesday night that for now, the district will look to legal counsel before using the leaseback method.
"We're figuring out under what rules would we actually engage in a lease-leaseback [contract]. We haven't figured that out yet. Once we figure that out in the future, then lease-leaseback becomes an option," Hanson said. "I think it's a safe bet to say we've got more work to do with counsel and you'll understand more about how we're going to operate with lease-leaseback."
Fresno Unified asked the Supreme Court to review the 5th District opinion last month, saying it hurts hundreds of school districts and contractors across the state.
Los Angeles Unified – the largest school district in California and the second largest in the country – filed a brief in support of Fresno Unified earlier this month, saying the appellate court's opinion has created "uncertainty and conflict" regarding school districts' leaseback contracts and contradicts previous court decisions that upheld districts' use of them.
Mackenzie Mays: 559-441-6412
Read more here: http://www.fresnobee.com/news/local/education/article32477868.html#storylink=cpy
This story literally makes my stomach turn.  I asked myself how someone can get themselves in such a dark place.  I think to myself, "What's the lesson here for all of us?"  
I know I sound like a broken record but since ethical issues seem to come up with such frequency in our jobs, I think we all need reminding here.  
Your job is not "you".  It's your job.  It's what you do to pay your bills so that you and your family can have a nice life.  
We all have crazy, busy, demanding times at work.  But those times should be the exception, not the rule.  When you find that you have become a slave to your job, have no free time, no balance, and a family that never sees you, it's time to stop and reflect.  When we get caught up in this fray, our judgment can easily become impaired.  Our entire self-identity becomes dangerously intertwined with our work place.  
Now enters an ethical challenge.  When our entire identity is tied to our job, making the wrong ethical decision can seem like the only option. We become desperate for acceptance and that desperation pushes us to make poor decisions that we might not otherwise make.
Learn from Jeanene Worrell-Breeden's terrible, terrible mistake.  Take a few minutes and ask yourself how an accomplished school principal can end up throwing herself in front of a train because she chose to cheat on her school's standardized assessment!  
Remember:  
First, don't let yourself get run down and tired.  Don't let yourself be a slave to your job.  It's a choice.  If you can't change it, dust off that resume and start looking.  
Second, you know when you are being asked to do something unethical or illegal.  Don't play the "I won't get caught" game.  Don't roll the dice. You are better than that.  You can always find a new job if you must.  But you can never get back your professional reputation once it's tarnished. 
Third,  if you find yourself in difficult ethical situation at work, find someone that you trust to talk it through.  Don't try to suck it up and suffer in silence.  Lean on your family or this network. You are never alone and I promise you that many others have been in a similar situation. Trust in that and let others help you.
------------------------------------------------
By JENNIFER PELTZ
Associated Press
NEW YORK (AP) - Jeanene Worrell-Breeden had what she called a dream job running a public school linked with Columbia University's Teachers College when she killed herself by jumping in front of a subway car this spring.
Three months later, the city Department of Education says there was more to her sad story: The principal had fudged answers on third-graders' state English exams, and authorities learned of the cheating allegations the same day she made her fatal leap. All the school's third-grade English scores have been thrown out in the first year its students took the important test.
The scandal has stirred sorrow and uncertainty after a promising start for Teachers College Community School and clouded the career of a Wall Street worker-turned-educator who'd earned praise for her approach.
"People are devastated," Sanayi Canton, a second-grade parent and president of a local education panel, said Monday. "It has always been a very open and honest and transparent situation that we've been a part of."
The allegations, which the city Education Department said it substantiated, come amid debate over testing and the national standards known as the Common Core; teachers' unions and some parents say education is too driven by high-pressure tests, while officials say tests are tools to improve schools. Educators have been accused of doctoring scores before; 11 were convicted of criminal charges in a notorious Atlanta case this April.
Meanwhile, Teachers College Community School seemed poised to prosper in its first round of Common Core tests, which factor in teacher and principal evaluations.
Intended to pair a public school with the research and other capacities of a noted teacher-education program, Teachers College Community School boasts $30 million in backing from Columbia, graduate students helping out in classrooms and such extra features as a robotics program. Opened in 2011, the Harlem school is on track to enroll over 200 students in prekindergarten to fourth grade. Plans ultimately call for about 300 students going up to eighth grade.
Worrell-Breeden, 49, came to the $138,000-a-year job from six years as principal at a Bronx elementary school and over two decades in the city school system.
"This is a chance to build the school of my dreams," the former finance worker said in a Teachers College profile at the time.
The school quickly developed a reputation that drew 464 applications for 50 kindergarten spots this year. A 2013 Education Department review praised its supportive environment and "deep sense of trust and respect," while suggesting tougher academic challenges for top students. Parents appreciated the tone of openness that Worrell-Breeden set, including through regular parent breakfasts.
"We don't have one bad thing to say" about the school, said kindergarten parent Kathie Holsenbeck. "And that's why it's so unfortunate that the actions of one person are going to taint it - because it really shouldn't."
Parents were stunned when they heard in April that Worrell-Breeden had died, unsettled again when officials said the English test scores were being invalidated. But it would be months before they learned the whole truth, parents said.
Worrell-Breeden was seen leaping onto a Harlem subway track on April 17, police said. Her death eight days later was ruled a suicide.
The day she jumped, someone told Education Department investigators that Worrell-Breeden had confided she forged answers on multiple third-graders' April 14 exams because the children hadn't finished them, according to a department memo released Monday.
It's unclear whether she knew about the investigation, first reported by the New York Post. The Education Department said Worrell-Breeden died without being questioned, but the agency wouldn't say whether she had been contacted about the allegations.
A working telephone number for her family couldn't immediately be found.
The school referred questions to the Education Department, where spokeswoman Devora Kaye emphasized the importance of test integrity and said the agency was working to help the school. Pupils won't be held back because of the invalid results, officials said.
Teachers College spokesman Jim Gardner said it remains committed to the school.
So do parents such as Holsenbeck and Canton, even if they feel bewildered.
"Why would she do that? . . . It doesn't fit her personality," Canton said. "It's a lot of unanswered questions."
 ___
 Reach Jennifer Peltz on Twitter @ jennpeltz.
So here is yet another article outlining some serious ethics (not to mention illegal) violations in a California school district. 
It almost feels like a broken record, doesn't it?  
If someone asked you to keep two sets of books, what would you do?  Would that little red light go off in your head that says "I know this is wrong!" 
Just the other day I was talking to a fellow graduate about an ethical situation in their district.  They were asked to do something that was ethically wrong.  They just laughed and told the boss that they wouldn't do it.  As it turns out, the boss thought better of it and ended up changing their mind.  
Saying no isn't easy.  In some instances, it might cost you your job.  But, not saying no can result in your losing your job and a whole lot more.  
Choose to rise above this kind of nonsense because you are better than this.
------------------------------------------
West Contra Costa school district whistle-blower speaks out
By Theresa Harrington [email protected]
RICHMOND -- Dennis Clay was understandably stressed before he exposed alleged financial mismanagement in the West Contra Costa school district's bond construction program. But now the whistleblower says he feels a sense of relief.
"Most of my personal turmoil happened between January and April," he said, explaining that he spent weeks compiling documents to demonstrate budgets that don't reconcile, overspending on projects and a lack of fiscal controls.
He sent the documents to the school board, which released them to the district's independent Citizens' Bond Oversight Committee. He also delivered them to the Contra Costa County Civil Grand Jury.
The project analyst's efforts paid off. In a special April 29 meeting, school trustees voted to pursue a forensic audit -- a more detailed examination of the records than a regular audit entails -- but have not yet hired a firm to begin that work. The Securities and Exchange Commission has also launched an investigation into his allegations, and the Contra Costa grand jury excoriated the district's management of the bond program in its latest report.
"Once it got past that first special meeting, I felt much lighter," Clay said, during an interview Wednesday. "It was a little bit of an obsession there for four months."
Clay says he alerted Sheri Gamba, the district's associate superintendent for business services, in 2011 about millions of dollars in discrepancies between internal and external reports, that now amount to $60 million unaccounted for in reports to the Citizens' Bond Oversight Committee.
"The budgets were changed to match what was actually spent," he said. "The spending was never controlled by the budgets. It was pretty much the reverse. And that's still true. There is no budget process in place to control spending."
Clay said he decided to go public after he alerted the recently hired bond program finance manager and the bond program engineer, who was moved to that position last year, about the problems. Also playing into his decision to go public was his feeling that an outside auditor he told of the problems didn't adequately investigate his complaints.
The district's process for managing $1.6 billion in voter-approved construction bonds, he said, results in staff who believe they should " ... never have to say 'no' to the board or board requests for projects."
"Once you understand that need," he said, "a lot of things make sense."
Employees who have questioned this process are no longer around, Clay added.
"Frequently, there will be an official budget and for planning purposes, and a different amount that they actually expect the project to end up at," he said. "The official budget does not keep them from spending over it."
Ivette Ricco, chairwoman of the Citizens' Bond Oversight Committee, said she doesn't know Clay, but she appreciates his willingness to speak out about his concerns.
"I think this is a real testament to his character that he feels that this is so important that he just has to step up and say something," she said.
"When you put your job on the line like that, and you know you're going to work with everybody, and it's going to be uncomfortable, that takes a certain amount of courage."
In response to Clay's allegations and a recent Civil Grand Jury report that criticized the district's bond oversight, the district issued a statement Wednesday confirming that the SEC is already investigating similar claims made last year.
"Because of the SEC's inquiry," the statement said, "the district will not discuss these claims in detail."
The district said its most recent audit found no shortcomings or inefficiencies in the bond program, but that it would take action in response to any findings or recommendations that may come out of the forthcoming forensic audit. The district also said it has taken steps to rebuild public confidence in the bond program by appointing new leadership to manage it, authorizing an independent attorney to advise the Citizens' Bond Oversight Committee, and directing staff to develop a facilities master plan, expected to be completed next year.
Clay said things have changed since former trustee Charles Ramsey, the bond program's biggest booster who previously chaired a facilities subcommittee that made most construction-related decisions, left office last December, but there is still much more to be done.
He questions the district's practice of hiring architects to begin conceptual plans for schools that will not be built for years or even decades, saying an official in the SGI construction management firm, which oversees the district's bond program, once referred to it as "the architect full employment program."
"I was astounded that he would say that, even though it's obviously true," Clay said. "I would have restated it as 'the SGI and architect full employment program.'"
Although Clay said he cares about district students having well-built facilities and taxpayers getting their money's worth, one of his main motivations for going public was to bring integrity to the district so he and his fellow employees can take pride in what they do.
"I'd like to work for a well-run, upright, honest organization," he said, becoming slightly teary-eyed. "We're going to run out of money before these schools are done, and people are going to feel like they've been lied to. It's not going to be a happy place or time."
Theresa Harrington covers education. Contact her at 925-945-4764. Follow her at Twitter.com/tunedtotheresa.
Allegations of violating the Brown Act will result in your losing credibility and it opens you up to public scrutiny.  
We all know the rules so when you choose to ignore them, you are rolling the dice as to whether or not you are the next newspaper article on the subject matter.  
This article is a direct result of the recent court ruling on the legality of lease-lease back.  I do disagree with the reporters interpretation of the purpose of lease-lease back - "Lease-leaseback contracts are traditionally used to help poor or small school districts build schools by allowing them to lease the land where they plan to build to a contractor for a small amount, and then the contractor pays all the upfront costs."  I don't agree that it was used to "help poor or small school districts"....
Rather, it has been used as a way of avoid the competitive bid process.  In the end, it's not your money, it's the taxpapyers.  Follow the rules and don't play games with the Brown Act.  It's a pretty simple code to live by but as you will read, not everyone has the same code in our industry.
------------------------------
BY MACKENZIE MAYS
Fresno Unified School District leaders have denied bids by school board members to schedule a vote on hiring an independent investigator to examine a controversial construction deal.
So trustees Brook Ashjian, Carol Mills and Luis Chavez are taking their campaign public. On Tuesday, The Bee published a letter to the editor from the three, who urged their fellow board members to consider an outside investigation. Ashjian, Mills and Chavez say it's time for an independent probe into a lease-leaseback deal the district had with Harris Construction to build Rutherford B. Gaston Middle School that was recently deemed illegal.
Although Superintendent Michael Hanson has proposed an internal investigation, the three board members are hoping an outside investigation will provide more transparency about the details of the case. But their requests to get the item onto the board's meeting agenda have been denied or ignored.
According to emails obtained by The Bee, School Board President Cal Johnson denied a request by Ashjian to have the matter put on the agenda at a special meeting last week.
When Ashjian asked why the request was denied, Johnson pointed to the Brown Act — legislation created to guarantee the public's right to participate in government meetings.
Johnson also pointed to Fresno Unified bylaws that say the superintendent and board president are in charge of preparing meeting agendas.
Johnson acknowledged that members of the board or public can request that items be placed on agendas, but he and the superintendent have the "ultimate authority" and "sole responsibility" of deciding what gets addressed.
BOARD BYLAW 9322 … GIVES THE SUPERINTENDENT AND BOARD PRESIDENT SOLE RESPONSIBILITY FOR DETERMINING WHETHER AN ITEM IS APPROPRIATE FOR PLACEMENT ON THE AGENDA.
"After consulting with the superintendent, board leadership has determined that it would be premature to consider your request at this time," Johnson said in the email.
Johnson said the staff is in the process of reviewing the contracts in question. Before any related items can be placed on the agenda, the superintendent and his staff should have the opportunity to "thoroughly assess the impact of the Davis decision and the use of lease-leaseback in constructing district facilities," he wrote in the email.
Johnson and Hanson did not comment on whether the item would be added to next month's meeting. Amy Idsvoog, interim chief information officer for Fresno Unified, said Tuesday that the district is looking at ways to modify its contracts concerning lease-leaseback issues. "In the meantime, our Board of Education has asked the Supreme Court to provide further direction," she said. Idsvoog did not say if the item would be added to next month's agenda.
Peter Scheer, an attorney and director of the First Amendment Coalition based in San Rafael, said he has received many calls from frustrated government agencies, including school boards, expressing the concern that leaders manipulate the Brown Act to filter what is addressed in public meetings.
The power to assemble meeting agendas is typically in the hands of one or two leaders on a board, but historically, that has caused conflict and frustration, Scheer said.
"I'm sympathetic to any organization, any city council or school board, that puzzles over what is the process for deciding what goes on the agenda. To me, it's just one of those things that they forgot about in the Brown Act," he said. "Obviously it would be ironic —perverse, frankly, for the act to be interpreted to invest all the power in one person. The point of the act is to facilitate democracy, but sometimes it's exactly the opposite."
The board members are concerned that an internal investigation would pose a conflict of interest. If the motion never makes it on the agenda and an independent investigator is not hired, then details about the case will remain unclear. At least one member of the public has also stepped forward asking for an outside investigation.
Ashjian said he's not sure what the next step will be, but he's determined to have the facts aired publicly.
"They want to investigate themselves when they were the ones that caused the problem," he said. "I don't know how we're supposed to talk about this thing if they won't allow it on the agenda, but people want transparency."
The Fifth District Court of Appeal recently found that the district sidestepped the competitive bidding process to the benefit of Harris Construction and in violation of state law.
Lease-leaseback contracts are traditionally used to help poor or small school districts build schools by allowing them to lease the land where they plan to build to a contractor for a small amount, and then the contractor pays all the upfront costs. The district then "leases back" the building from the contractor and pays down the project costs over several years. But in this case, Fresno Unified had the money, which has led to allegations that the deal was made solely to ensure Harris Construction got the bid.
Fresno Unified has come under fire before for not allowing items to be added to the board agenda, despite pleas from board members and the public. In 2012, former board member Michelle Asadoorian went public about being silenced by board leadership. Asadoorian claimed various requests to address a controversial residency issue involving then president Tony Vang were repeatedly denied.
Mackenzie Mays: 559-441-6412, @MackenzieMays
Read more here: http://www.fresnobee.com/news/local/education/article25371361.html#storylink=cpy
Is everyone just about finished with their preliminary budget?  I know I've had a super busy few weeks....I can almost see the light again...
So, here's yet another article demonstrating the wrath that can come your way in this position.  I even learned of a new job title..."an ex-chief business officer"!  
Read it and learn from the unfortunate mistakes of others! 
-------------------------------
STOCKTON — The 2014-15 San Joaquin County civil grand jury has criticized Stockton Unified School District officials and trustees for their handling of the purchase and sales process of 31 never-used special-education school buses.
In a report released Tuesday, the grand jury said the decisions to spend $2.05 million to purchase the buses in 2013 and to then sell them a year later were made with little documentation.
During its review, the grand jury determined bus service for special-needs students was also managed ineffectively.The grand jury found the district had been transporting on buses reserved for special-needs students about 100 students who were not qualified, based on their Individual Education Plans.
The Record previously reported that in June 2013, trustees unanimously agreed to buy the buses. Storer Transportation had previously handled that transportation on a contractual basis.
Carlos Chicas, a former SUSD transportation director, said last year the district would realize an annual savings of at least $700,000 by using its own buses and drivers. Wayne Martin, an ex-chief business officer, supported the proposal.
Both have since left SUSD.
The grand jury found information provided to trustees was "too brief, inadequate and generated very limited or no discussion."
The grand jury recommends in the future that any new purchase exceeding $30,000 should have a full accounting and justification as required by board policies and the California Education Code.
The recommendations, the report states, are meant to strengthen SUSD operations.
Stockton Unified Board of Trustees President Gloria Allen doesn't believe the report is fair, saying the grand jury didn't ask her or anyone else why the decisions were made. Allen said the board members made the most appropriate decision with the information they were given.
"At the time, the buses were a good idea, and now it looks like they weren't a good choice," Allen said. "Things change and we went in another direction. It's not fair to say we didn't do our job. We worked with what information we had."
— Contact reporter Nicholas Filipas (209) 546-8257 or [email protected] Follow him on Twitter @nicholasfilipas.
I came across this blog and found it was a simple read that contained some sage advice.  Then it reminded me of a picture that the fabulous Jeff Dixon shared with me years ago.  It's one of those pictures that's funny but also kind of sad...when you really think about it.  I thought this was the perfect blog to share it.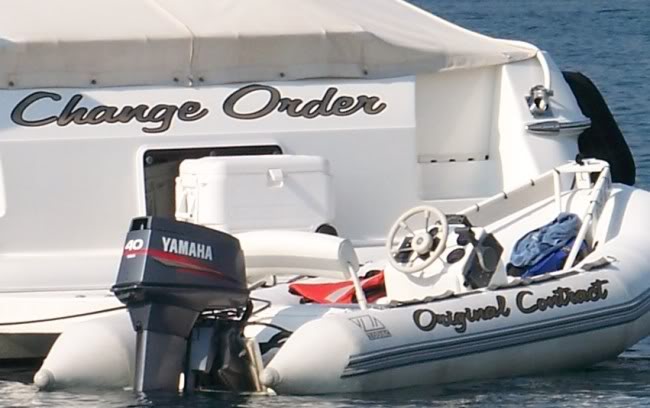 We have all heard horror stories about fraud, waste and abuse in government agencies.
But most people are hesitant to believe that such malfeasance is going on in their own communities, according to a well-respected certified fraud examiner who gave a keynote presentation earlier this week at the fourth annual California League of Bond Oversight Committees conference in Sacramento.
Don Mullinax, a former Inspector General of the Los Angeles Unified School District, told the citizen watchdogs from around the state that average fraud schemes last about 18 months before being detected.
"But, I've seen them take nine years or more," he said. "Think fraud to find fraud."
The best way to avoid or detect fraud is to ask a lot of questions and don't believe everything people tell you, he said.
"I'm not saying everyone's a liar, a cheater and a thief," he said. "But, if you go into some sort of oversight and you don't have skepticism, you're going to get burned."
Mullinax outlined several "best practices" to help ensure that districts spend voter-approved construction bond funds appropriately. These include: hiring talented people inside the district (instead of relying solely on outside consultants), doing "due diligence" reviews of contractors, providing annual fraud awareness training to staff and bond oversight committee members, performing aggressive audits and using sophisticated technology to track, analyze and report expenditures.
"We have to hire people with talent on the inside to watch the folks on the outside," he said. "If you think it's not going to happen where I'm at, you could be embarrassed."
He suggested that citizen watchdogs should ask to see the same tools and tracking records that districts and construction managers use. In addition, districts should adopt comprehensive policies and procedures for tracking and authorizing expenditures, along with a fraud hotline.
However, he warned that having an ethics codes don't make people ethical. Enron, he said, had one of the best ethics codes around. Likewise, having an audit doesn't guarantee that your district has no fraud. Audits, he said, should be thorough and should cost more in districts with large bond construction programs than in smaller ones.
Mullinax said oversight committee members and districts should adhere to "principles of common sense." These include: reading contracts, and checking to see if employees exist, services were performed and goods were received.
He also outlined several "warning signs" for fraud. As a general rule, these are "a set of circumstances that are unusual in nature or vary from normal activity," he said. Problems arise when these warning signs are ignored or not adequately investigated.
Such warning signs may include: a single vendor receiving a majority of contracts, refusal to produce records and files, significant lifestyle change of people involved in bond program, refusal to take vacations (for fear someone else will look at the books), turning down promotions or transfers, no exceptions or errors (reports are "too clean"), lack of separation of duties (minimal checks and balances), successful bidders subcontracting to losing bidders, winning bidder always bids last, losing bidder cannot be located in business directories, numerous or large dollar change orders, and invoices without addresses and phone numbers for vendors, and costs billed are not consistent with progress of construction.
"Change orders are a big deal," he said. "Contractors will bid low, then add change orders sometimes the day after they get the contracts."
Mullinax advised citizen watchdogs and district staff not to get "SBS -- or Stuck Butt Syndrome." Instead of merely reviewing reports, they should be out looking at projects, he said.
But the buck stops, he said, with district leaders.
"It all comes back to the ethics and integrity of people in charge," he said. "Trust is not a control."
Do you trust your local officials to spend taxpayer money wisely?
If you are really wondering how often school districts get themselves in "smelly, unethical swamp waters" because they violate bidding laws, just take 10 seconds to Google the subject. You might be surprised, even dismayed to see how often this comes up.
The latest and greatest scandal comes from Chicago and it's a textbook example of how not to do your job.   You can read all of the press on this incident but in the final analysis, how can anyone justify a $20 million no bid contract....never mind that the CBO was a former employee of the company that got the work.
Here's the lesson and I think it's an important one.  In all of these cases, at the root is the same justification...relationships....
The person that breaks the law is doing it so that they can secure work for someone that they think they like, know, want to help, believe does great work, is better than everyone else, needs the work, or provides them with some sort of kick-back.   When you find yourself rooting for someone to get the job, take a step back and remember this never changing fact:  It's not your money.  
There are very simple rules about how to spend taxpayer money.  If you follow those rules, life will be simple.  If you start going down the road of playing games with those rules, you are likely living on borrowed time.  
Chicago Public School Officials Tread Water In Smelly, Unethical Swamp
While taxpayers wait to learn the outcome of the federal corruption investigation into the Chicago Public Schools' questionable $20 million no-bid contract with SUPES Academy, it's not too soon to conclude that the School Board and CPS officials continue to operate in a smelly unethical swamp, where they have been mired for many years.
Numerous news organizations recently reported that the FBI and a federal grand jury were investigating CPS CEO Barbara Byrd-Bennett and the contract with SUPES, where she worked before joining CPS.
Even if Byrd-Bennett did not commit a federal crime, news reports seem to indicate that she or her aides hid or downplayed her true relationship with the owners of SUPES, and she may have misled the board about the rationale for the no-bid contract.
If Barbara Byrd-Bennett deceived the Board of Education when she asked it to approve the SUPES contract, she violated Section VIII A of CPS' Code of Ethics. [PDF] Also, she may have ignored her fiduciary responsibility, which the ethics code says "all officials owe to the taxpayers of the City of Chicago and the State of Illinois."
Last December, the Chicago Sun-Times reported that companies partially owned by School Board member, Deborah Quazzo, received $2.9 million in CPS business in a year and a half after she was appointed to the board by Mayor Rahm Emanuel.
Two months later the Sun-Times reported that Quazzo "voted to support charter school networks that have given more than $1 million in business to companies in which Quazzo has an ownership stake."
In March, the head of the Chicago Principals and Administrators Association criticized the awarding of an $80 million school custodian contract to SodexoMAGIC, a firm owned by retired basketball great Magic Johnson, after his firm donated $250,000 to Mayor Emanuel's re-election campaign. When the Chicago Tribune asked Mayor Emanuel about the ethics of accepting the campaign contribution after his hand-picked Board of Education awarded the contract to Magic Johnson's company, the Mayor evaded the question.
In January the Chicago Sun-Times reported that in 2011 shortly after Ron Huberman resigned as CEO of Chicago Public Schools, he and a partner formed a company that now receives business worth hundreds of thousands of dollars from some of the same CPS-funded charter schools that Huberman championed when he was the head of CPS. The Sun-Times report said CPS's "ethics code does not prohibit former officials from doing business with charter operators they had dealings with while working for the district." The code has prohibitions against certain post-employment relationships but that section is not very clear and it appears to apply only to lobbying activities.
Examples of CPS's lax or corrupted ethics don't always involve contracts and conflicts of interest.
U.S. Secretary of Education Arne Duncan, when he was CEO of CPS, apparently believed it was OK to break the rules to help a rich, CPS financial contributor bypass the admission process to get his daughter admitted to Walter Payton College Prep High School on the Chicago's North Side. In 2008, well before he was elected governor of Illinois, the rich contributor, Bruce Rauner, bought a condo in Chicago to establish residency in Chicago so his daughter would be eligible. But her test scores and other factors fell short and she was rejected. No problem. Rauner, who had donated $250,000 to the school, picked up the phone and called Duncan's chief aide, who called the principal and the daughter was admitted.
In 2010, the city's two major daily newspapers reported that former school board president Michael Scott and his predecessor Rufus Williams used their CPS credit cards to decorate their offices with expensive artwork, lease private limousines, buy expensive wines and dine at upscale restaurants. Scott even charged airfare of $3,000 to fly to Copenhagen to help promote Chicago's bid for the 2016 Olympics. Scott and Williams, who both insisted that all the credit card expenditures were related to CPS business, paid back some of the money to the schools. After an investigation began, Scott was found dead on Sunday Nov. 15, 2009, with a gunshot wound to the head. The medical examiner's office ruled it a suicide.
In 1995, D. Sharon Grant, president of the Chicago Board of Education, pleaded guilty to federal and state income tax charges after the FBI investigated a no-bid multi-million dollar contract awarded to an insurance company that agreed to give business to a minority firm partially owned by Grant. The FBI began its investigation after the Better Government Association disclosed the insurance deal. The BGA also said $300,000 in school funds were used to repair a building linked to Grant's mother.
CPS board members and CEOs are not the only CPS officials who have trouble with ethics. Some officials have found ways to benefit personally when negotiating or monitoring contracts for the school district.
In 2012, the head of CPS' food services department resigned after being accused of accepting thousands of dollars in gifts from the district's two largest food vendors.
This was not related to an exposé the same month by the BGA that a politically connected business responsible for delivering milk to more than 600 schools was charging CPS 24.5 cents for a half pint of chocolate milk, which was 1.7 cents more than some suburban schools were paying. The mayor's chief administrator estimated that an additional one penny cost CPS $700,000 per year. Within a year, the company lost the contract.
In his 2013 annual report [PDF], CPS Inspector General Jim Sullivan said a technology coordinator at a Lake View High School embezzled more than $400,000 from 2001 to 2011 by issuing checks to phony vendors, forging the checks and cashing them. The tech coordinator resigned while an investigation was underway. Months later, he was found dead in a hotel in Tijuana, Mexico.
The 2014 OIG annual report [PDF], issued by a new inspector general, Nicholas Schuler, disclosed that the Cook County State's Attorney was working with his office to investigate the theft of $876,427 from two schools. The thefts involved fraudulent purchasing and reimbursement schemes by CPS employees.
Both annual reports describe numerous incidents of CPS employees lying to get their kids accepted in selective enrollment schools or included in free or reduced price lunch programs.
In the 2014 report, the inspector general said malfeasance was rampant in some CPS schools. He didn't say anything about the amount of unethical behavior at the top.
~*~
Thomas J. Gradel is a freelance writer and political researcher. He is the co-author with Dick Simpson of Corrupt Illinois: Patronage Cronyism, and Criminality, published in February, 2015, by the University of Illinois Press.
/