Shopping Cart
Your Cart is Empty
There was an error with PayPal
Click here to try again
Thank you for your business!
You should be receiving an order confirmation from Paypal shortly.
Exit Shopping Cart
California School Fiscal Services
Providing comprehensive business office and consulting services to K-12 traditional schools and charters
In regards to an earlier post "Schools Weigh Expanding Free Meals to All Students," there are a few provisions in the nutrition services area that allow for meals to be served at no charge to all students – Provisions 1, 2, and 3 as well as the Community Eligibility Provision (CEP). Just as I had come onboard in FY 13-14, SAUSD opted to go district-wide to Provision 2. Before that time, only some of the schools within the district were operating under the Provision 2 umbrella. However, we have now decided to run the numbers under CEP and analyze the data to determine if it would be financially more beneficial to implement the CEP at selected school sites rather than Provision 2. If we do go this route, we would be a hybrid operations as some sites would be under Provision 2 and others under the CEP. We have a small window of time to complete our analysis as the deadline to opt in the CEP is August 31st. With that said, I thought that it might be helpful to highlight some of the key elements of each provision in the table below.
Traditionally, under the National School Lunch Program (NSLP) and School Breakfast Program (SBP), schools/districts annually distribute free and reduced price meals applications to households of all enrolled children and make determinations of eligibility for free and reduced price meals. They also have to count the number of meals served by type (free, reduced price, and paid meals) at the point of service on a daily basis to claim Federal and State reimbursement.
In an effort to reduce paperwork at the local level, Congress incorporated into Section 11(a)(1) of the National School Lunch Act three alternative provisions to the normal requirements for annual determinations of eligibility for free and reduced price school meals and daily meal counts by type (free, reduced price, and paid meals) at the point of service. In addition, Section 104(a) of the Healthy, Hunger Free Kids Act of 2010 made the Community Eligibility Provision (CEP) available to LEAs and schools in high poverty areas.
Schools/Districts must apply in order to participate in any of the provisions and receive approval from the CDE before implementation of the program.
Indeed, if the district priority is to make meals available to all students at no cost, then all aspects of the financial impact has to be analyzed and communicated. There are several calculations that have to be performed in order to determine the fiscal impact of any one of the mentioned provisions. The cost/benefits of each have to be analyzed and a methodical long term plan has to be developed to ensure that the elected provision will be fiscally sustainable for the duration of the program, up to 4 years or longer in many of the cases.
Some of the implementation challenges specifically related to the Community Eligibility Provision (CEP):
1. The limited time during the initial implementation to understand the CEP, make decisions about participation, and implement it
2. Understanding and addressing the implications of the CEP for educational programs that use individual student FRP (Free/Reduced/Paid) meals certification data. Federal and State educational programs routinely use FRP/household income data for multiple education-related purposes, so lack of such data under the CEP represents a widespread challenge
3. At the LEA level, the barriers included financial concerns and uncertainty about impacts of the CEP on the National School Lunch Program (NSLP) and School Breakfast Program (SBP) participation
4. Equity issues and operational challenges, especially for LEA's with both eligible and non-eligible schools
5. LEA's may experience new challenges in the meal claiming, at least during the initial implementation, due to possible increased administrative costs and errors (i.e. use of incorrect claiming percentages). On the other hand, the CEP could produce net savings in meal counting and claiming costs in the long run, if schools could reduce the complexity and cost of automated systems for meal counting and payments.
(Due to the challenges posed by number 2 above and for internal control purposes over the reimbursement claiming process, at this time SAUSD under its Provision 2 program will continue to track meal counts at the point-of-sale rather than just taking the meal total count and applying the base year percentages. In addition, all new students enrolling in the district will be given a meal application only for other programmatic purposes, NOT for determining meal eligibility, and such costs will be reimbursed by the General Fund)
Some potential cost savings based on preliminary studies:
1. CEP participation appeared to reduce time spent by school and LEA staff on distributing and processing applications for free or reduced-price meals
2. Time and effort in processing and verifying income of free/reduced students
3. Meal payment collections and accounting
4. Potential reduction of errors in the processing of FRP meals applications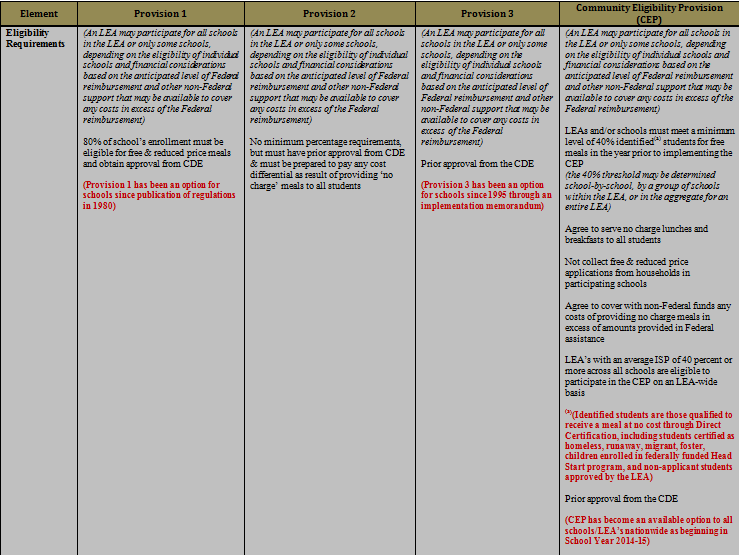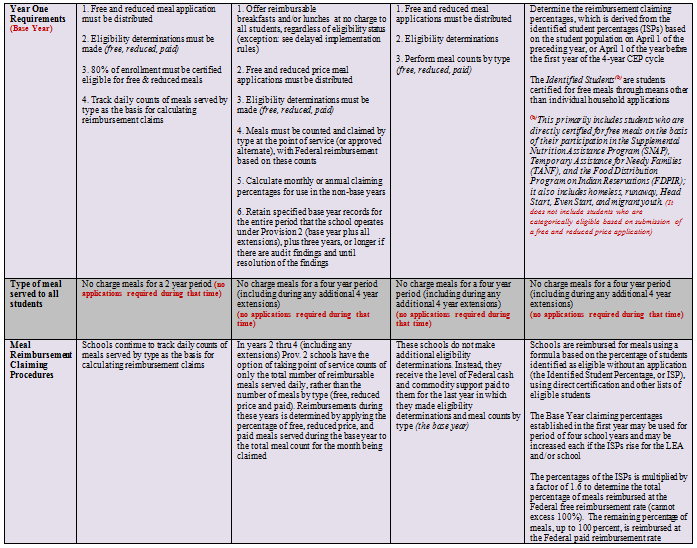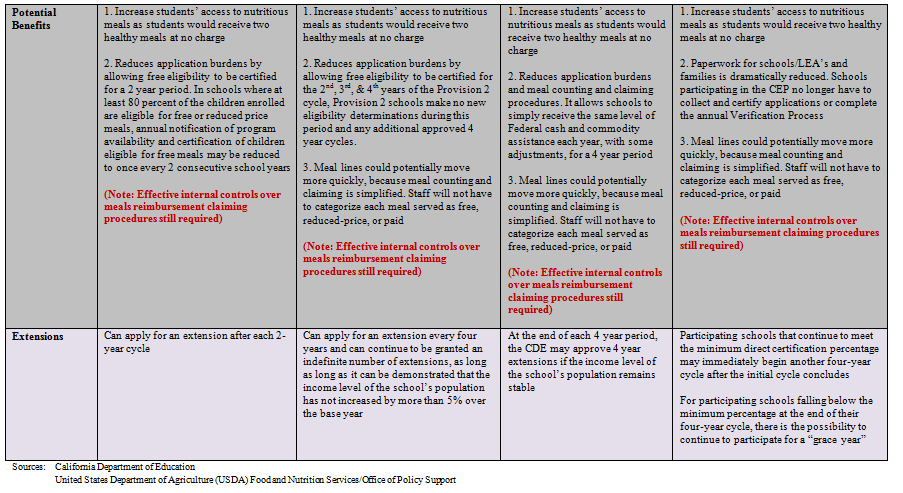 Lucia Mar USD had been banking with Mid State Bank for many years. This was a true community bank, they were invested in our schools. The bank president helped us pass our last bond. We loved them and they were good to us. Sadly about 6 years ago Mid State sold to Rabobank.
In June, three of their bankers came to visit me. (Yes – THREE– one which drove 5 hours from Sacramento). They had come to inform me that the District's accounts were not "profitable" for them. They were especially upset that we have 17 daily deposits for our cafeteria account. Each site prepares their own deposit and our district courier delivers them to the bank. We have done it that way for years.
The meeting didn't go well, I was annoyed with their suggestions: "you should start taking payments online" (we do). "You should have an armored truck pick up your deposits at each site." (Huh? You want me to send men with guns on campus?) They didn't do their research, and it was clear they didn't care about the customer. The meeting ended with them telling me that they would begin charging us approximately $400 a month in account analysis fees. It also ended with me knowing we needed to find a new bank.
As I was researching new banks this summer, a prospective banker explained to me that the reason Rabobank want the armored truck was because the armored car would take the cash to a clearing facility in LA and the local bank wouldn't have to "deal" with the cash in our deposits. You see, they don't want our cash! This was made clear in an email I received this week from Rabobank informing me that they would not accept any daily cafeteria deposits that contain cash as of the start of August. When I asked if they were truly going to refuse our deposits this is the response I received:
"……. We cannot continue business as usual for the upcoming school year as far as the dropped off deposits containing cash and coin. …..The time that it takes to process these deposits was also a topic of discussion during our meeting. Banking has changed over the years. Our customers use many of our multi- electronic channels to do their banking, requiring less staff in our branches. We just don't have the staff anymore to process these bags of coin and cash like we used to. Not only does it take time to process, but there has been discrepancies in the deposits which causes correction issues on our end taking even more time. We have not been charging for many fees that should've been charged years ago for many services that we've been providing for free, and as a business we just cannot do it any longer.
Here is what needs to happen if the school district would like to stay banking with us and to prepare for the upcoming school year-
1.) Agree to the quote attached (by the end of business day on Friday) so I can contact our cash management dept. They will set this all up to get started. Garda will pick up all the cash and coin only from the location of 602 Orchard St Arroyo Grande CA 93421 once a day and take it to the cash vault in LA between 10AM-12PM. Checks will still need to be brought to the bank for deposit and cannot just be dropped off. The person depositing must stay and wait for the receipt.
2.) If you agree to the quote by this Friday then we will go ahead and continue to accept the bags in the branch(containing cash, coin, and checks) just like before in the interim while this is getting set up, but we will be hard charging the account 107.50 per week.
3.) If you need Bank bags we can supply them at the cost of 94.72 for 500 of them. You also have the option of buying them from office max or staples if you'd rather go that route.
4.) **When you start to go through Garda the fee goes through analysis, and we supply you with the bags you need for coin, and cash and that cost also goes through analysis.
Note: There will be a delay of a couple of days for processing at both the branch and LA locations.
Please let me know if you have any questions. "
Stunning customer service–isn't it? Please note that we do not have "bags of coin and cash" in our cafeteria deposits. Needles to say, Lucia Mar will be switching banks by September 1st!
My question for you, my fellow graduates,– How do you handle the cash in your cafeteria deposits?
Rhonda Seybert
Director of Finance
Lucia Mar Unified School District
Here is a very interesting article regarding the dilemma school districts face regarding the new federal law that allows high poverty schools to serve all students under the free meals program.
This is a classic example of a struggle that we all face in the business office.  Here is something that is clearly good for kids but can definitely impact your bottom line in a negative way.  (Note there is not full funding for serving all of your students)  
What's the lesson here?  I think it is this:  We need to remember that we are all here for the students.  Our job is not to decide what is best but to provide a factual analysis of the cost impact of all decisions.  If feeding all students is a priority, then we provide the fiscal impact of that decision and show our stakeholders how we can make it happen.  It may mean cutting out something else to fund it but that is not our decision to make.  We stick to the facts and show others how we can accomplish district goals while remaining fiscally solvent.
I wonder what Habib will say about this???  



____________

Schools will have more time to decide if they want to take advantage of a new federal provision that would allow them to provide free meals to all students after the U.S. Department of Agriculture extended the deadline to opt in from June 30 to Aug. 31.

 

The extra time will allow district leaders and nutrition staff members to weigh the benefits of participation in what is known as the community-eligibility provision and to prepare for the transition, Cynthia Long, the USDA's deputy administrator for child-nutrition programs, wrote in a June 12 letter to state nutrition directors.

 

The extension comes as some cities are wavering on whether to take advantage of the new opportunity to expand their free meals programs. Notably, members of New York's city council had pushed to expand universal free meals to all of the city's schools through the community-eligibility provision. But a budget compromise last week with Mayor Bill de Blasio instead included a plan to pilot universal free meals in all the district's middle schools.

 

Federal officials hope to win over more districts as the new deadline nears.

 

"Reaching our most vulnerable students through [the community-eligibility provision] provides equal access to nutritious meals while also lowering administrative costs for schools," Ms. Long wrote

 

 

The provision, created under the Healthy, Hunger-Free Kids Act of 2010, will allow high-poverty schools to offer free meals to all students without requiring families to file individual applications. The provision will be available nationwide for the first time in 2014-15.

 

Over the past three years, 4,000 schools in 10 states and the District of Columbia have piloted the program. Advocates say eliminating the barrier of applying helps drive up participation by removing the federal lunch program's stigma for students.

 

How It Works

 

While cities like Boston and Detroit have embraced the new option, the delay in signing on to the provision in some other districts can be attributed to the administrative and mathematical gymnastics necessary to determine whether participation is financially feasible.

 

A school or a school system qualifies for community eligibility if at least 40 percent of its enrollment is made up of "identified students." Such students include those who are cleared to take part in the subsidized meals programs without applications because they live in households that participate in other federal income-based programs, like the Supplemental Nutrition Assistance Program. Other identified students are children who are participating in Head Start, living in foster care, homeless, or migrant.

 

Districts also can clump several schools together and consider their aggregate population for the sake of eligibility.

 

While participating schools will provide free meals to all students, the USDA will only provide full meal reimbursements equivalent to the number of directly certified children multiplied by 1.6. The rest of the meals will receive the smaller subsidies provided for fully paid meals under the traditional payment model.

 

That means some schools that qualify for community eligibility might struggle to make it work financially, food-service directors who piloted the program said in a webinar hosted last year by the Food Research and Action Center, or FRAC, a Washington-based advocacy group.

 

Title I Concerns

 

Some districts have resisted the community-eligibility provision out of concern for potential effects on distributions of Title I aid, which is based on the income surveys that are used to qualify students for the meals programs.

 

That concerned officials in the 1.1 million-student New York City system. The city saw a 50 percent increase in breakfast consumption when it started a free program in some schools, according to a resolution sponsored by four city council members, who hoped to see similar results with districtwide free lunches. The city estimates the compromised middle school plan will feed approximately 170,000 students in about 290 schools.

 

If a district adopts the free-meals option only in some of its schools, it will create an apples-to-oranges situation, making it harder to rank the schools' poverty levels to determine how Title I funding should be allocated within the school system.

 

To address such concerns, the U.S. Department of Education released guidance in January explaining how schools can compare identified-student data in some schools to traditional school lunch data in others. And some districts, such as Detroit, have created alternative income forms that aren't linked to their meals programs to ensure they have accurate information for all their students.

 

Despite some hurdles, anti-hunger groups have encouraged districts to opt in to community eligibility.

 

In an October 2013 report, FRAC assessed the provision's impact in the early pilot states of Illinois, Kentucky, and Michigan. In schools that had been participating in community eligibility for two years, average daily lunch participation rose by 13 percent, from 69 percent in October 2010 to 78 percent in October 2012, the organization found. Average breakfast participation increased from 44 percent to 56 percent over the same period.

 

"Higher participation in school meals means children can concentrate on their lessons and not on their empty bellies," Madeleine Levin, a senior policy analyst at FRAC, said when the report was released.

Education Week:  Published in Print: July 9, 2014, as Deadline Extended for New School Meals Option


 




Having recently made the shift from the district office fiscal side to the nutrition services department as the accounting manager; it's been a rewarding year learning about this fascinating and dynamic area of school business. Over the last year I have been able to develop some metrics/KPI's to gauge certain aspects of our operations. These include, among others:




· Monthly Average Daily Participation (ADP) by site/grade level

 

· Changes in ADP as compared to the prior years

 

· Current year month-to-month percent change in ADP

 

· Participation percentages for breakfast & lunch based on Average Daily Attendance (ADA)

 

· Meals per labor hour

 

· Average daily cost of inventory used for meals by site

 

· Average cost of inventory used per meal

 

In our continuous effort of becoming more efficient with our food and labor costs while increasing student participation and overall revenues; I am soliciting input from our seasoned (no pun intended) nutrition services professionals as to what other metrics/KPI's they use to measure the effectiveness of operations as well suggestions on increasing participation.

 

 Currently we have a budget of over $30M, serve nearly 10M meals per year at 60 sites, and a department staff count of approximately 350. We also operate a full catering program, a summer feeding program at all of our school sites as well as several community parks under the Seamless Summer Feeding Option (SSFO), and vend meals to 3 non-district schools. As of 2013-14, we are a provision 2 district with nearly 90% of our student population qualifying for free and reduced meals.

 

 I look forward to the collaboration and sharing of information on strategies to increase participation (specifically for breakfast as our average participation is currently around 25% of ADA while lunch is at 75%), cost tracking methods for various programs (i.e. CACFP, summer feeding program, catering, etc.), and other useful dashboard items. I will gladly share some of our analytics/data, as requested.

My email is:   [email protected]




0

/