Shopping Cart
Your Cart is Empty
There was an error with PayPal
Click here to try again
Thank you for your business!
You should be receiving an order confirmation from Paypal shortly.
Exit Shopping Cart
California School Fiscal Services
Providing comprehensive business office and consulting services to K-12 traditional schools and charters
Looking for an update on the state of LCFF implementation?  This meeting might be perfect for you then!
http://edpolicyinca.org/events/lcff-implementation-and-impact-conference#rsvp

Date:
Thursday, June 22, 2017 - 1:00pm to 4:30pm
Venue:
California Secretary of State Office Building Auditorium
Address:
1500 11th St, Sacramento, CA 95814
Policy Analysis for California Education (PACE) is excited to invite you to The Local Control Funding Formula (LCFF) Implementation and Impact Conference. 
Check out this opinion piece from Ted Lempert, president of Children Now and Ryan J. Smith, executive director of The Education Trust–West..  They suggest that LCAP should be reported out at the site level rather than the entire district.  Some very interesting food for thought about what the word "transparency" truly means.  
---------------------------------------------
Gov. Jerry Brown fundamentally changed how we fund our K-12 education system when he signed the Local Control Funding Formula (LCFF) into law in 2013. Since doing away with the archaic system that sustained inequitable school funding, California has been pushing dollars and decision-making to the district level, and providing more funding for the students that need it most.
Despite these improvements, the success of the funding formula is in jeopardy unless the alarming lack of transparency into how schools are spending this money and whether the investments are improving student outcomes is fixed.
Our organizations pushed for the funding formula and continue to believe in its benefits and potential to close opportunity and achievement gaps for our 6.2 million students. Since LCFF's passage, we have seen promising changes around the state — a boost in community engagement, more equitable funding of districts and increased efforts to reduce chronic absenteeism and improve school climate, among others. However, since LCFF's passage, we and many others have tried every possible way to build fiscal transparency into the system to no avail.
Currently, LCFF requires districts to report how the districts overall – not the schools specifically – are spending their dollars. Without school-level expenditures, we cannot tell if districts are spending these additional dollars to serve the schools and students that generated them — English learner, low-income, and foster youth students.
These dollars are intended to increase or improve services for those students, but the lack of transparency on actual expenditures makes it nearly impossible to gauge the impact of those investments, or even determine if they're actually occurring.
Recent research — including a study conducted by The Education Trust-West (ETW) — underscores these concerns. ETW's research found that while funding has become more equitable across California school districts, there is little evidence to prove this funding has translated into more opportunities or success for students in low-income schools.
That is why Assemblymember Shirley Weber has introduced AB1321. It will give us the ability to determine why this is happening and the information necessary to fix it.
Transparency and accessibility are core to LCFF. When the governor introduced the formula in his January 2013 budget proposal, he stated that it would "greatly increase transparency… empowering parents and local communities to access information in a more user friendly manner and enhance their ability to engage in local school financial matters." AB 1321 brings such transparency to every district, ensuring LCFF in practice truly embraces the intended principles of the original LCFF legislation by creating a consistent and direct method for districts to report their actual spending, by type of funding at the school and district level.
Parents, local communities and others should not have to hire research teams and data analysts to get the information they need to understand how school funds are being used.
Waiting any longer to fix this transparency problem will be to the detriment of our students and will stifle the very districts we expect to be innovating and transforming communities by depriving them of sufficient information and direction from the state.
To be clear, districts face an enormous amount of often-competing pressures, ones that will only continue in the wake of pension reforms and economic changes. Ensuring LCFF works, given these pressures, will take a great deal of work — but it is work our students and our state deserve.
California took bold action once before in the name of equity, fairness, and the pursuit of closing achievement gaps when it shifted to LCFF, and policymakers must now approve AB 1321 for the same reasons.
Ted Lempert is president of Children Now and Ryan J. Smith is executive director of The Education Trust–West.
Two different LCFF and LCAP workshops are coming up that are sponsored by FCMAT.  Be sure to reserve a spot if you need some training on how to complete these documents.  They are the bread and butter of what we do so keeping up to date is very important.  
Mastering the Basics:
This four-hour workshop will cover the LCFF and LCAP for school districts and charter schools, with detailed instructions on the FCMAT LCFF Calculator and the minimum proportionality percentage (MPP)
------------------
Beyond the Basics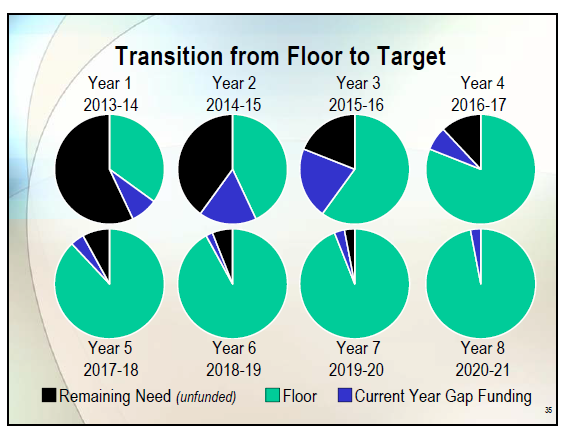 *Slide provided by FCMAT
I recently attended a workshop on LCFF and this slide was part of the presentation.  I have  pulled it out of the longer presentation and used it several time since then.  This prompted me to share it with all of you with a little commentary.
Take a look at portion of the pie in blue named "Current Year Gap Funding".  This is really the focus of this slide.  Notice that the size of those blue slices were pretty large from 2013-14 through 2015-16.  Also, notice that in the future years, the size of those blue slices get increasingly smaller.  What does this mean for us?
Here's the important take-away:
1.  First, remember that there is no guarantee that we are going to receive any of this funding in the out years.  These are projections that require a state budget is passed each year.  This is Governor Brown's vision for the 8 year roll out of LCFF.  He won't be the Governor through 2020-21.
2.  Second, let's assume that you ignore the reality of #1 and believe that our future years will roll out exactly as laid out on this slide.  Even if that is true, it is critical to remember that as we move closer to our target funding, the gap gets smaller.  That means that we are not going to get these large year over year increases.  
I see districts rejoicing that schools have increased funding.  Negotiations are alive and well again.  We are all so happy to have the Great Recession behind us.  However, don't been fooled or lulled into the false belief that our funding will continue to rise at the same rate as it has since the advent of LCFF in 2013-14.  It won't and it was never designed as such.
Smart USC graduates and CBOs understand this and are making it part of their common language!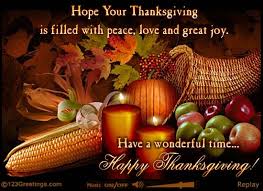 So, the Advanced Principal Apportionment for 15-16 is now available on the CDE website.  
Remember, LCFF and EPA are still new - be sure to take the time to review the advanced apportionment with your cash flow projections for July 2015-February 2016 - how'd you do?????
http://www.cde.ca.gov/fg/aa/pa/pa1516.asp
It's SO easy to get busy and not take the time to stop and think! Yet, these are rich opportunities to check up on yourself and make sure your estimates are solid.  If you were off, then research it and find out why.  This is what will make you GREAT at your job instead of just getting by.
And I know for certain that you all want to continue to be GREAT at your job!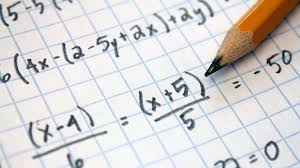 If you ever find yourself in need of getting down in the weeds with the LCFF calculation, be sure to check out CDE's LCFF exhibit reference guide.  It's a nice document that outlines the "how" for all LCFF exhibits.  It's always nice to have something like this saved in your files in case you need to explain something or just need to understand exactly how a particular element is calculated. 
Click on the link "2014-15 LCFF Exhibit Reference Guides" from this CDE webpage. 
Enjoy!
I'm sure I am not the only one that is putting those finishing touches on costing out our LCAP goals. Then I happened across this article and had to chuckle. We are all trying to find ways to cover our basic teacher salaries in our LCAPs and here's an article that focuses on field trips. Ah, the media....
-------------------------
By Lillian Mongeau, The Hechinger Report
Taking 175 6th graders on two forms of transportation, then leading them on a one-mile walk through San Francisco to a downtown science museum is no small task. But it's what teacher Linda Holt may be doing far more regularly in the coming years. That's because her school district here in Vallejo made the decision last summer to allocate more money to field trips over the next several school years.
The decision comes as a result of California's new school funding rules, which eliminated many of the traditional earmarks on state funding and handed the privilege, and the challenge, of allocating funds to the districts. Known as the "Local Control Funding Formula," the new rules require that district leaders make funding decisions only after asking for input from teachers, parents, and students.
Vallejo Superintendent Ramona Bishop took that directive very seriously for her 15,500-student district. In addition to collecting surveys from a quarter of the student body, which is about one-third black, one-third Latino and 18 percent Filipino, she set up small-group meetings at the middle and high schools.
The idea to spend more money on field trips—students also asked for new textbooks, yummier lunches, and more after-school activities—came from students at the district's alternative high school.
"It was all about, 'take us places where you take your kids, Dr. Bishop,'" she said. Students listed museums, college campuses, and military bases as examples of where they might want to go.
Student Feedback
Jake Howland, 17, attends Vallejo's alternative John W. Finney High School. He said school officials usually don't ask what students think "because they don't want to hear about the problems. But if your school's not all the way it should be, there are problems that you could make clear," he said.
Taivon Wilson, a 6th grade student at Franklin Middle School in Vallejo, Calif., waves at a high-speed camera that plays back movements in extreme slow motion during a field trip to The Exploratorium in San Francisco.
Taivon Wilson, a 6th grade student at Franklin Middle School in Vallejo, Calif., waves at a high-speed camera that plays back movements in extreme slow motion during a field trip to The Exploratorium in San Francisco.
Tiffany Dotson, 17, said she'd only been on one field trip—to the California Hall of Sciences in San Francisco—during her years in Vallejo's public schools. But she recalled it vividly.
"Probably, it would have helped me" stay out of trouble to go on more field trips, Tiffany said. "I'm a hands-on learner."
The students' field trip idea now appears on page 29 of the 41-page plan that outlines how the Vallejo City Unified School District will spend its money through the 2016-17 school year. Field trips in grades 4 to 12 claimed $120,000 of the budget this school year. By 2016-17, there will be $360,000 available to grades K-12, enough for every child in the district to attend at least one field trip.
The new money was doled out to schools in September, said Mitch Romao, who oversees the district's funding plan under the state's new local control laws. Once the school year starts, it's mostly up to teachers to decide where to take their students on field trips, Mr. Romao said. The district does provide some guidelines: Fourth and 5th graders should see colleges or universities, middle school students are meant to learn more about art or science, and high school students should visit places that teach them about their chosen academy's area of focus.
"As far as I know, every school is using as much of the money as possible," Mr. Romao said. "We're not quite sure if they're going to use it all or if they'll need a couple dollars more."
As transportation is the most expensive part of any trip, Mr. Romao said district officials calculated the field trip budget based on the cost of bus rentals, which he said run around $600 for a day's excursion
'Just Let It Be Fun'
And that's how, after 15 years of teaching at Franklin Middle School and not once taking a single student on a field trip to the Exploratorium, a science museum in nearby San Francisco, Ms. Holt found herself supervising the loading of three buses full of museum-bound 11- and 12-year-olds.
Franklin Middle School students from Vallejo, Calif., experiment with a "spinning blackboard" while on a field trip to San Francisco's Exploratorium.
Franklin Middle School students from Vallejo, Calif., experiment with a "spinning blackboard" while on a field trip to San Francisco's Exploratorium.
"Just let it be fun," prayed Ra'ven Powell, 12, as she waited to board the bus to the subway station. Today's trip would be only her second to a museum, she said, after the time she went to a dinosaur museum with her grandmother. Ra'ven was expecting to see "stuff from the 1970s or something."
On the second leg of the 90-minute journey, a group of boys clinging to a subway pole were similarly unsure of what they would see. Slime, squids, emeralds, fossils, skeletons, rocks, and candy all made the hoped-for list.
Some of the confusion was probably due to the infrequency with which these students, 88 percent of whom qualify for free or reduced-price lunch, go on such trips.
Such opportunities, however, can bring logistical challenges, and confusion over how to take advantage of them. Ms. Holt, for example, didn't learn until a few weeks before the trip that her class would be going to the museum. Then, no one had told the teacher that the district money was meant to cover a bus ride all the way into the city. Consequently, she reserved buses just to take her students to the subway station and bought half her students subway tickets with money earned from the 6th grade dance. The other half of the tickets were donated by BART, the Bay Area's subway system.
Nevertheless, they all seemed happy to be going somewhere.
Attendance Declines
Field trips, as measured by student visits to museums, fell sharply during the recession. One-third of districts nationally cut field trips entirely during the 2010-11 school year, according to an American Association of School Administrators survey.
Schools in California were particularly hard hit by the recession. An informal poll of a half-dozen California museums found that field-trip attendance dropped universally in the 2009-10 and 2010-11 school years.
Attendance has come back up at most museums. In part, that's because districts like Vallejo have begun loosening their belts. It's also because museums like the Exploratorium have increased programs that offer free admission for students from low-income schools like Franklin.
Amid increased pressures on schools to produce top test scores, Molly Porter, the manager of school and teacher programs for the Natural History Museum and the Page Museum, worries many will decide to forgo out-of-school field trips.
"It's expensive and it does take (time) out of the class day, but it is instructional time and it is valuable," Ms. Porter said. "I hope that we can be seen as a vital component of a well-rounded formal education experience."
It's unclear at this point how many other California districts will allocate a portion of the money they receive from the new school funding formula to field trips. For one thing, not all districts will get the same amount. For another, district needs vary widely. Training on the Common Core State Standards, expanding community-engagement efforts, and purchasing materials have ranked high on many district plans for how to spend the new money, according to the state's Legislative Analyst's Office.
Academic Benefits
Jay P. Greene, a professor in the school of education at the University of Arkansas, is one of only a few academics to have examined the vitality of field trips. He and his colleagues took advantage of the 2011 opening of the Crystal Bridges Museum of American Art, in Arkansas, to conduct a study on the effects of a visit to the museum.
In cooperation with the university, Crystal Bridges staff issued field-trip dates to 123 schools that had expressed interest in taking a total of 11,000 students to the museum. Half of the schools made the trip in the fall and the second half traveled in the spring. All students and staff were admitted for free.
Students who attended the fall field trip scored higher than their peers who had not yet made the trip on measures of critical thinking, tolerance, and interest in visiting a museum again. Students from low-income backgrounds and those from rural areas benefitted the most, Mr. Greene said.
Brenda Hernandez and Marianna Cruz, both sixth-graders from Franklin Middle School in Vallejo, Calif., play with an exhibit on pulleys at the Exploratorium in San Francisco.
Brenda Hernandez and Marianna Cruz, both sixth-graders from Franklin Middle School in Vallejo, Calif., play with an exhibit on pulleys at the Exploratorium in San Francisco.
—Lillian Mongeau for The Hechinger Report
"More disadvantaged students have less opportunity to be exposed to cultural activities so they really need the school to do it for them," he said. "I suspect that the quality of the experience is incredibly important."
An ideal trip, the Natural History Museum's Ms. Porter said, would include a preparatory visit by the lead teacher, logistical and academic preparation for students and chaperones, and a clear introduction to the exhibits by museum staff. There should also be clear academic goals for students during the visit, like writing observations of the exhibits in a notebook.
Almost none of that preparation happened as part of the Franklin Middle School trip to the Exploratorium. And because it took so long to get there, students only had an hour and 15 minutes to explore the exhibits, less than half the time they spent traveling to and from the museum.
Upon walking into the vast warehouse that now houses the Exploratorium, students scattered to play with hands-on exhibits that ranged from shooting a basketball while wearing glasses with slanted prisms for lenses to experimenting with shadows in a room lined with light-sensitive vinyl.
One of the students, Taivon Wilson, 11, pushed a button in front of a screen and watched an extreme slow-motion playback of himself waving and clapping. He said he didn't know how it worked, but he tried moving slowly, then quickly, to see what the camera recorded depending on his speed. Jasmine Capili, 11, and two classmates listened at tubes that were supposed to separate specific sound waves from the rest. Jasmine said she didn't know what the tubes were supposed to do. Then, to everyone's delight, a boy started tapping out a song on the various tubes, playing it like a xylophone.
A week after the trip, Ms. Holt listed nearly every item on Porter's list, without prompting, as something she would like to do in preparation for her next trip.
"If we could prepare them for the activity so they know what they're going to see, it would be better," Ms. Holt said. "We didn't have a lot of info [this year]. I think we could have done a much better job at getting the kids ready."
Back on the bus, returning to school, there was a fart-noise making contest in the back. In the front, two boys sat glumly by a teacher in anticipation of getting suspended for jumping the subway turnstiles when they couldn't get their subway tickets to work. And asked if they'd learned anything, most students shrugged and returned their attention to their smartphones and each other.
It was not abundantly clear that the trip had been a success. Certainly, no one was excitedly explaining how she'd just had an insight into how sound waves work; nor going on about the properties of simple pulleys; nor plotting the invention of an improved slow-motion camera.
Specific new knowledge is only one part of what students get out of a field trip though, according to Mr. Greene. The other part, much harder to measure, is greater cultural awareness and broader horizons.
Jake, the student from the alternative high school, had a similar reason for thinking field trips were important.
"If we were going to go on a field trip they should probably be to places where it's showing us what's beyond school," he said.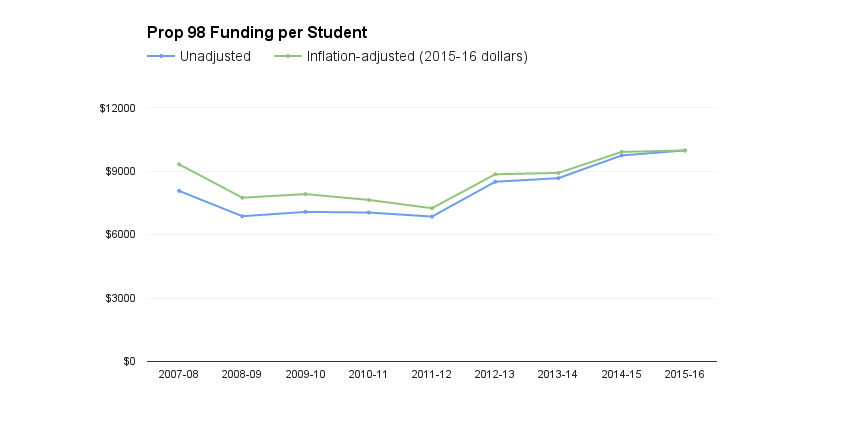 The Legislative Analyst's Office estimates that extra revenue in the May budget revision will raise K-12 Proposition 98 funding to $9,978 per student –$656 per student higher than the inflation-adjusted, pre-recession spending level in 2007-08.
The LAO's per student Prop. 98 estimate for 2014-15 in the graph includes one-time spending of $700 per student more than districts anticipated when they built their 2014-15 budgets; that money, totaling $4.3 billion, will be spent in 2015-16 and subsequent years.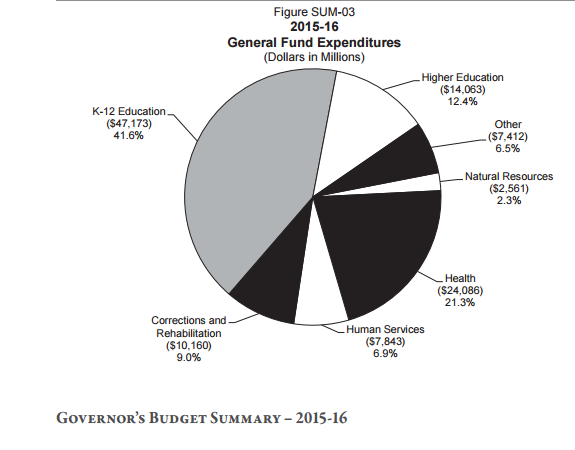 As we've all become more familiar with the basic premise of LCFF funding and the 8 years it will take to receive full funding, I've noticed that many of us remain skeptical. We remind others that the idea that education would receive increased funding for 8 consecutive years, at the detriment of other state program, is just not a reasonable assumption. Most of us wonder why CDE even bothers to print our "target funding" on the LCFF snapshot tool.
Now we are seeing an increase in revenue projections and the positioning among competing state programs has begun. (Think of the Kentucky Derby with horses named "Education", "Prisons", and "Public Safety" running feverishly around the track!) It will be very interesting to see what happens with education's Prop 98 "guarantee" this year. Let's watch closely to what happens with the 2015-16 education budget and see if it impacts our already distrustful belief system in the LCFF funding model.
--------------------------------
Teachers, school boards and other education groups have a message for Governor Jerry Brown and California lawmakers: Leave our money alone.
There's a new buzz phrase making the rounds at the state Capitol these days: 98 Envy.
"98" as in Proposition 98, California's constitutional school funding guarantee that will absorb nearly all of this year's surge in state budget revenues.
And "Envy" as in, everyone else wishes they had even some of that money.
Some lawmakers, like Democratic Senator Holly Mitchell, want to pay for child care programs out of Prop 98. That's legal, and it's been done in the past.
"There's no question in my mind – or anyone else's, quite frankly – that what we're talking about, early care and education, is indeed education," Mitchell told Capital Public Radio last week.
But school groups say that could eventually take money out of the classroom.
"You have the same amount of money with more students to educate or to care for, because child care is not necessarily an education program," Estelle Lemieux with the California Teachers Association told reporters at an "Education Coalition" media briefing Monday.
We'll see what Governor Brown wants to do later this week when he releases his updated budget proposal.
 Ben Adler / Capital Public Radio
/